WHY EXPERTS LOVE THEM (and everyone else needs them)
BDCW ULTIMATE Skid Plates continue to be the top choice for expert riders, proving its worth in the most rigorous conditions and terrain worldwide. Think you don't need this much protection? Think again. It's while learning to master big bike skills, both on pavement and off road, where carnage happens. Rocks get kicked up, bikes get dropped and hung up, curbs get in the way, and scrapes and spills are just part of the adventure. And, the ULTIMATE Skid Plate is designed to take all of these abuses—and more!
DESIGN NOTES
For several years we've been approached by many of our customers who own KTM 690s wanting the ULTIMATE Skid Plate for their bikes. Most were already running our skid plates on one of their other bikes, so they would ask: "Why don't you make a skid plate for the 690? It's an awesome bike that deserves the best protection." Frankly, our design approach has been "to OWN the bike is to know the bike." We've owned the 500, 950, 990, 950 Super Enduro, 1190 and 1290 when we developed their products, but recently we got a unique opportunity from a very loyal customer to borrow his bike for an extended period of time. As usual, we took a hard look at the vulnerabilities of the bike's key components and began a design that would stand up to significant abuse that still get riders home safely.
What we found when we researched the aftermarket was that existing plates were mostly made from inferior materials with minimal coverage. It was time to make a game changer, "Make it ULTIMATE."
FITMENT
This skid plate fits the following models:
KTM 690 Enduro (2008–2021)

Husqvarna 701 (2016-2021)
COMPATIBILITY
ENGINE GUARDS—not compatible with the Touratech engine guards.
NUTS, BOLTS AND BENEFITS
Comprehensive Engine Coverage
Protection provided for the engine block, clutch cover, water pump and ignition cover.
More Heft—3/16-inch (4.76mm) 5052 Aluminum
You get what you pay for! And we found the optimal material to protect, perform, and last. In fact, it could outlive your bike. The grade of aluminum we selected is designed to ABSORB impacts, not transfer the force to the mounting points on the bike. Thinner material won't hold up as well and thicker material won't "give"—transferring all the impact force to the mounting points on the bike.
Frame Mounted
Attaches to the frame in the front & rear for the ultimate protection Saves your engine case from potential damage.
Unique Protection of Rear Brake Master Cylinder AND Rear Suspension Linkage
Coverage of these fragile components provides the ULTIMATE protection of your ride
Smooth Bottom for Clearing Obstacles
No holes to snag on rocks or branches. This plate glides on its own—right up over most obstacles without bolts, rubber sliders or rivets to catch or break off.
Quick Change Artist—ONE Minute to Remove
Remove just 2 bolts for an oil change / maintenance!
Compatible with Trail Stand
We have added anchor holes to our skid plate to enable the use of the Trail Stand to aid in trailside repairs
Powder AND Clear Coated
Looks great and takes the punishment that anodized finishes can't.
Looks Badass on Every Bike
Not that it matters when it's covered in mud.
Cheap Insurance
Considering the costs of expensive repairs or "extractions" from the backcountry, it's a bargain!
Tested and Trusted Worldwide
All of our own products are rigorously tested on our personal bikes BEFORE they're released. Our innovative and rugged designs are used throughout the world—a fact that we're very proud of. We make no pretense that we're the cheapest, but, you can be sure that BDCW products are the best made, and that we stand behind them.
Made in the U.S.
No bones about it, we manufacture all of our Black Dog products right here in the U.S. It is extremely important to us. We have world class manufacturers in our own back yard and we intend to use them.
WHAT RIDERS ARE "BARKING" ABOUT
Check out what satisfied BDCW customers and industry editors and experts are saying:
From the Dog Pound (satisfied Black Dog riders):
Please send us your comments for this section. We welcome your feedback.
"Kurt, got the plate today. Crap dude... it's amazing! Not sucking up here, but this is one of the highest quality products I've seen! It's so nice, part of me is going to cry the first time it takes a rock. Wow, I can see the heart/soul that goes into the product and worthy of the made in USA sticker. Nice work dude. This thing looks bomb proof!"—Bryan G. Bosch, Publisher, ThumperTalk, Inc.
Watch this YouTube of Josh Rallo installing the BDCW Skid Plate on his KTM 690—

"People are really liking the BDCW skid on the 701. (I picked up another one last week and would like to set it up the same.) The one I've already got paid for itself on the first rental. Huge rock hit on the part of the skid where you guys extend farther than other manufacturers. The guy would have been walking home from the Utah desert with a cracked clutch cover!"—David Hammer, Durango, CO.(Owner of Mountain ADV Rentals)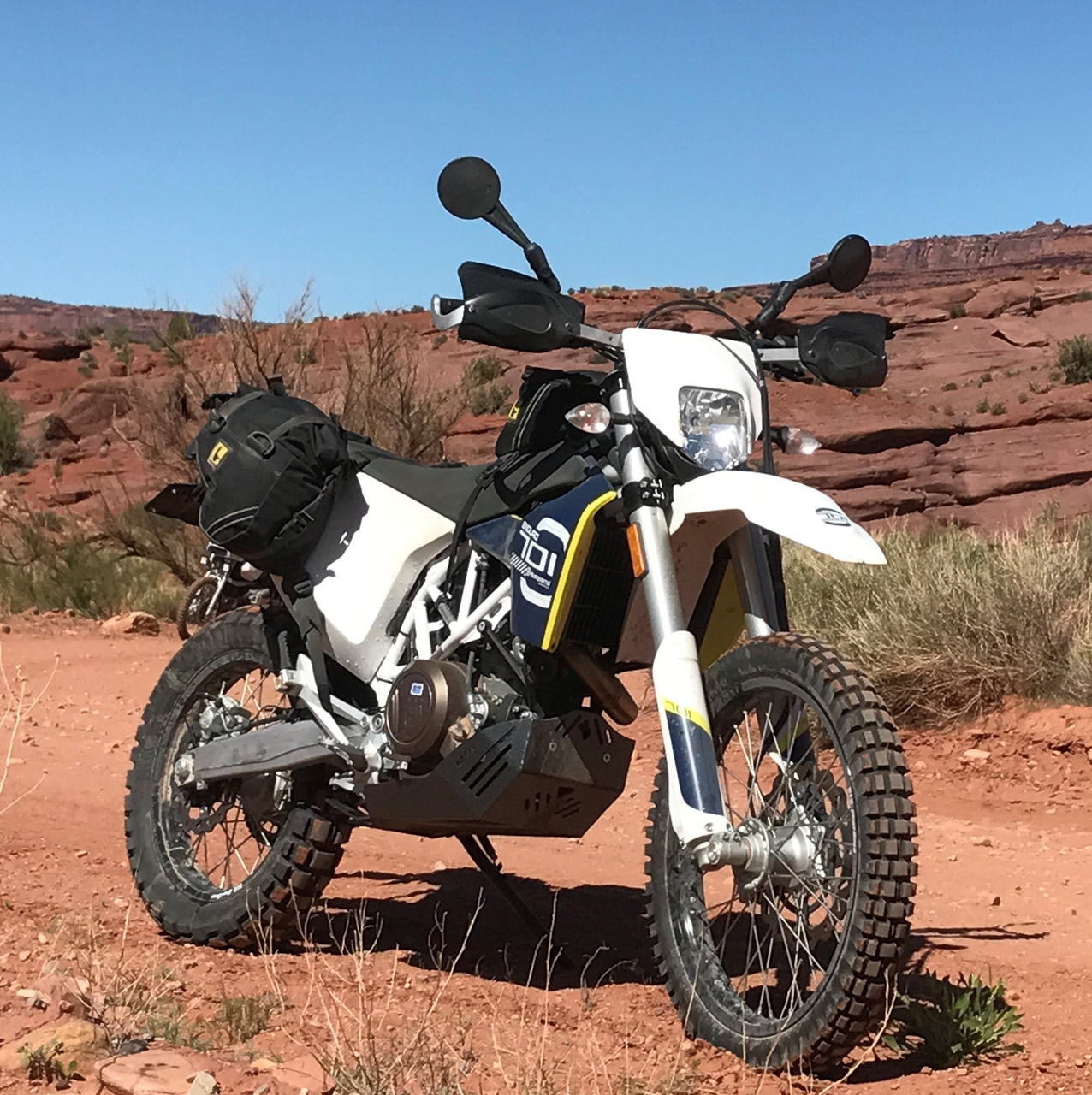 Check out the review on Adventure Motorcycle magazine's website!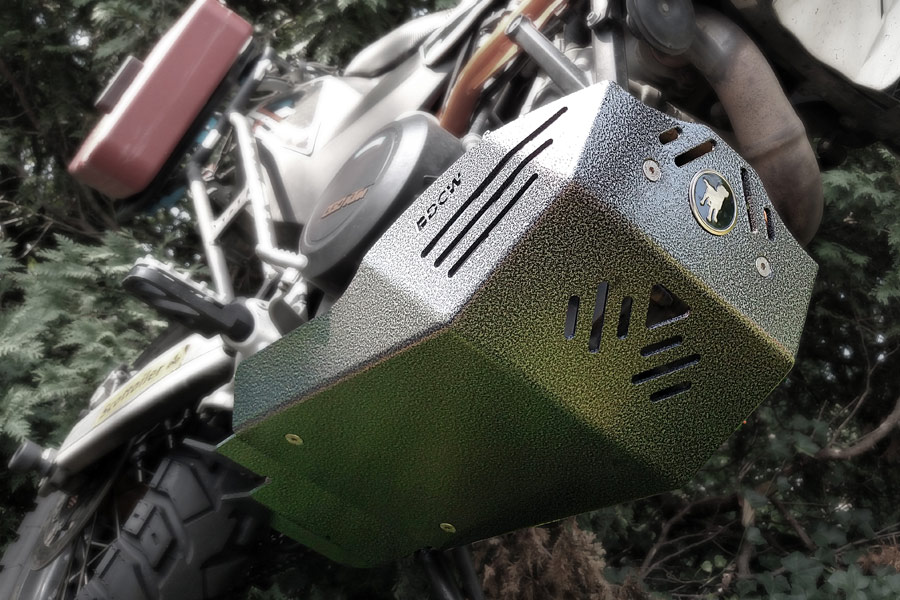 DESIGNED AND MANUFACTURED IN THE U.S.A.