Please note production skid plates will be powder coated BLACK - not the silver vein pictured on the prototype.
VERSION 2 NOW HAS ADDITIONAL VENTILATION HOLES AROUND THE CAT FOR IMPROVED COOLING
The ULTIMATE Skid Plate for the new Harley Davidson Pan America
While there are several options for "upgraded" skid plates for the new Pan America, ours is the ONLY one designed we have seen that attaches to the FRAME of the motorcycle instead of directly to the engine. By isolating the engine, our skid plate provides exponentially more protection to the motorcycle when taken in the offroad conditions this bike was designed to enjoy.
Think you don't need that much protection? We ask you to consider that even doing something as seemingly benign as hitting a hidden water bar on a graded gravel road can cause substantial impact to the skid plate, and if your skid plate is attached to the motor, your risk of damage to the engine case is real, as is your potential long walk home....
That is exactly why we ELIMINATED this risk by NOT attaching to the motor. For added protection, we have added a rubber "shok blok" between the skid plate and engine case to help absorb the energy from large impacts to further protect the mounting points on the motorcycle.
BDCW ULTIMATE Skid Plates:
Why Experts Love Them (and Everyone Else Needs Them)
BDCW's ULTIMATE Skid Plates continue to be the top choice for expert riders, proving its worth in the most rigorous conditions and terrain worldwide. Think you don't need this much protection? Think again. It's while learning to master big bike skills, both on- pavement and off-road, that carnage happens. Rocks get kicked up, bikes get dropped or hung up, curbs get in the way, and scrapes and spills are just part of the learning curve. And our ULTIMATE Skid Plate is designed to take all of that abuse—and more!
DESIGN NOTES
With 15 years of experiencing designing the most rugged skid plates for a broad spectrum of ADV bikes, we developed an innovative solution for the mounting design of the skid plate to isolate the skid plate from the motor.
In addition our design is very streamlined to the bike with plenty of venting holes to allow for cooling, while offering protection to the regulator that is directly behind the front wheel.
Another important design requirement is that it must be easily removable for maintenance - just 4 bolts and drop the skid plate for service and maintenance

FITMENT
Version 2 - Harley Davidson Pan America (ALL YEARS)
NUTS, BOLTS AND BENEFITS
Comprehensive Engine Coverage
Larger dimensions mean your expensive engine has maximum protection. Protecting key components like the exhaust system, regulator, side stand and safety switch as well as the engine block is something our design excels at.
Frame Mounted
Attaches to the frame at the rear of the plate. Saves your engine case from potential damage.
More heft—3/16-inch (4.76mm) of 5052 Aluminum
You get what you pay for. And we found the optimal material to protect, perform, and last. In fact, it may very well outlive your bike. The grade of aluminum we selected is designed to ABSORB impacts, not transfer the force to the mounting points on the bike.
Smooth Bottom for Clearing Obstacles
No holes on the bottom to snag on rocks or branches. This plate glides on its own—right up over most obstacles without bolts, rubber sliders or rivets to catch or break off.
Better Exhaust Protection
Our full length skid plate provides the Ultimate in protection of your exhaust system

Countersunk Hardware
Our skid plate features countersunk hardware, which protections the head of the bolt and reduces the chance of damage to the mounting bolts as well as snagging the hardware on obstacles
Unique "Shok-Blok" Protection
Rubber bumpers act as additional shock absorbers against frontal impacts while an additional "Shok-Blok" braces the front mount against the bottom of the engine block, providing extra insurance from damage.
Quick Change Artist
Removes with just 4 bolts for an oil change! No disassembly required. Saves on service costs at the dealership too! The drain plug is accessible WITHOUT removing the skid plate too!
Powder AND Clear Coated
Looks great and takes the punishment that anodized finishes can't.
Looks "Badass" on Every Bike
Not that it matters when it's covered in mud.
Cheap Insurance
Considering the costs of expensive repairs or "extractions" from the outback, it's a bargain!
Made in the U.S.
No bones about it, we manufacture all of our Black Dog products right here in the U.S. It is extremely important to us. We have world class manufacturers in our own back yard and we intend to use them.
Tested and Trusted Worldwide
All of our own products are rigorously tested on our personal bikes BEFORE they're released. Our innovative and rugged designs are used throughout the world—a fact that we're very proud of. We make no pretense that we're the cheapest, but, you can be sure that BDCW products are the best made, and that we stand behind them.
COMPATIBILITY
Compatible with the OEM center stand and crash bars

Aftermarket exhaust systems are untested at this time
INSTALLATION NOTES
For installation it is handy to have a spring puller and a ball end 6mm allen wrench
WHAT RIDERS ARE "BARKING" ABOUT
Specific Feedback about the BDCW Skid Plate for the Harley Davidson Pan America:
I received your skid plate and your work is clearly top notch. I'll be sure to let folks know about your skid plate and why I think it's the best on the market for the Pan America i.e. frame mounted.
Thanks! Rob Guilmette - CHEBOYGAN, MI
Check out what satisfied BDCW customers and industry editors and experts are saying about Black Dog's skid plates:
"And the best part about the Black Dog skid plate? Every time a rock hits it, it rings like a cash register—alerting you to the money and hassle you just saved!"—NoiZboy (ADVRider forum)
From Dirt Rider magazine:
"The Ultimate Skid Plate is well worth the price of admission. Just one ride with this bruiser was the difference between a great ride and a $1,500.00 repair bill. It's not cheap, but neither is an engine case when the wimpy stock unit proves to be inadequate. We have to admit, it stroked our ego a little, giving our bike that hard core adventure look, even if we're just going to the burger joint with our buddies."
From the Dog Pound (satisfied Black Dog riders):
"Great skid plate! The finish and fit is very nice. I love how easy this will be to take off when doing service work."—Doug Matson
"Install went great. Thanks for a fantastic product. This is my first BDCW product and I'm impressed with your attention to detail, very well done."—Nick Hein
"My skid plate for my 2015 BMW R1200GS LC was delivered yesterday and I installed it today using only my BMW tool roll. Now, as to quality—this is one serious piece of equipment. It makes the undercarriage a tank. At the same time the finish is elegant, like metal artwork. Nothing sloppy or rough. On a scale of 1 to 10 with 10 being the best I give this skid plate a 10."—Rev. Brian House
"The best product you can add to your motorcycle to ensure that your bike is well protected off road." —Jeff Camacho, Montclair, CA
"I have put your skid plate to the test! Copper Canyon last month and Death Valley with RawHyde this past week. I can't tell you how tough this thing is. It's worth every penny. I hit a few rocks pretty hard… I am glad I put the BDCW skip plate on. Everyone in my training class at RawHyde was looking at it. It is by far the best skid plate out there."—Mick Williamson, Gilbert, AZ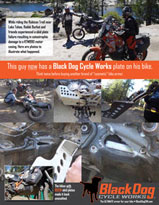 The dangers of using "cosmetic" armor
MADE IN THE U.S.A.