"Here are some photos of my mounting bracket for my skid plate on 2012 R1200 GSA, which has been abused from Day One! Five years' worth. I lost the center stand skid plate years ago, somewhere in the Copper Canyon. This is not a complaint email just a testimony of the quality of product that you produce. Without your skid plate I'm sure I would have no exhaust pipes left and a hole in my oil pan. Thanks for the great product, I have your foot pegs as well. I also have the same set up on 690 enduro. The last photo is from a 'trail' that I ended up on!"
—Bruce Patterson, Alberta Canada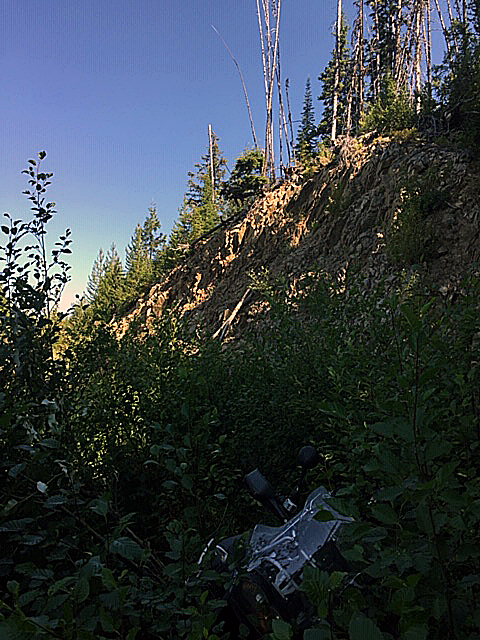 ---
"Just wanted to let you know that the BDCW skid plate and footpegs have been working great on our KTM 690 Enduro. I've done two full-day dual-sport rides with them installed. The pegs provide a huge platform for stand-up riding, and the burly skid plate does its job. I've attached a few photos. We'll have a write-up about the accessories in Rider soon."
—Greg Drevenstedt, Senior Editor, Rider Magazine
---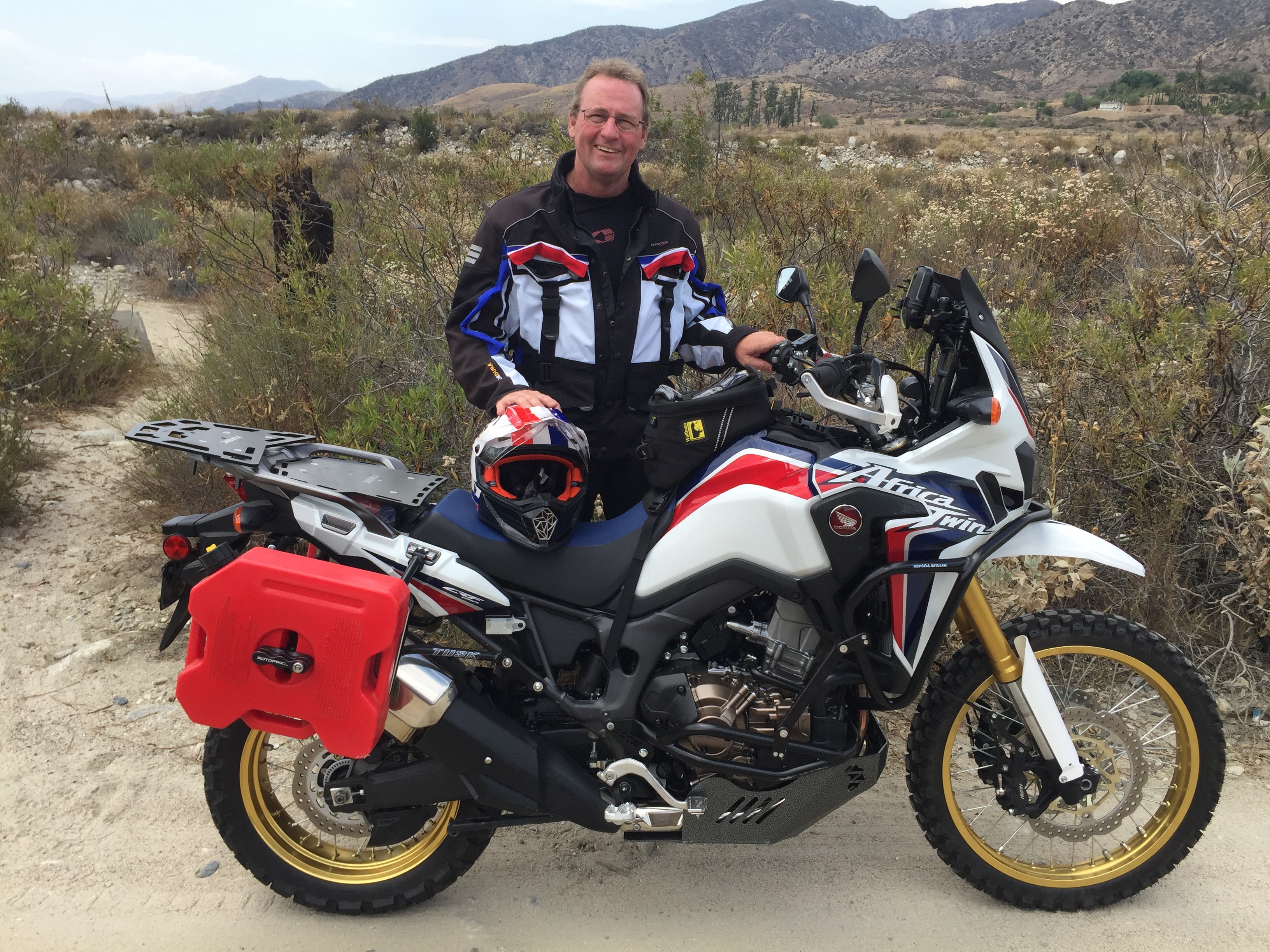 Above: Read Dwight Waldo's story here.
---
"Kurt, got the plate today. Crap dude... it's amazing! Not sucking up here, but this is one of the highest quality products I've seen! It's so nice, part of me is going to cry the first time it takes a rock. Wow, I can see the heart/soul that goes into the product and worthy of the made in USA sticker. Nice work dude. This thing looks bomb proof!"
—Bryan G. Bosch, Publisher, ThumperTalk, Inc.

---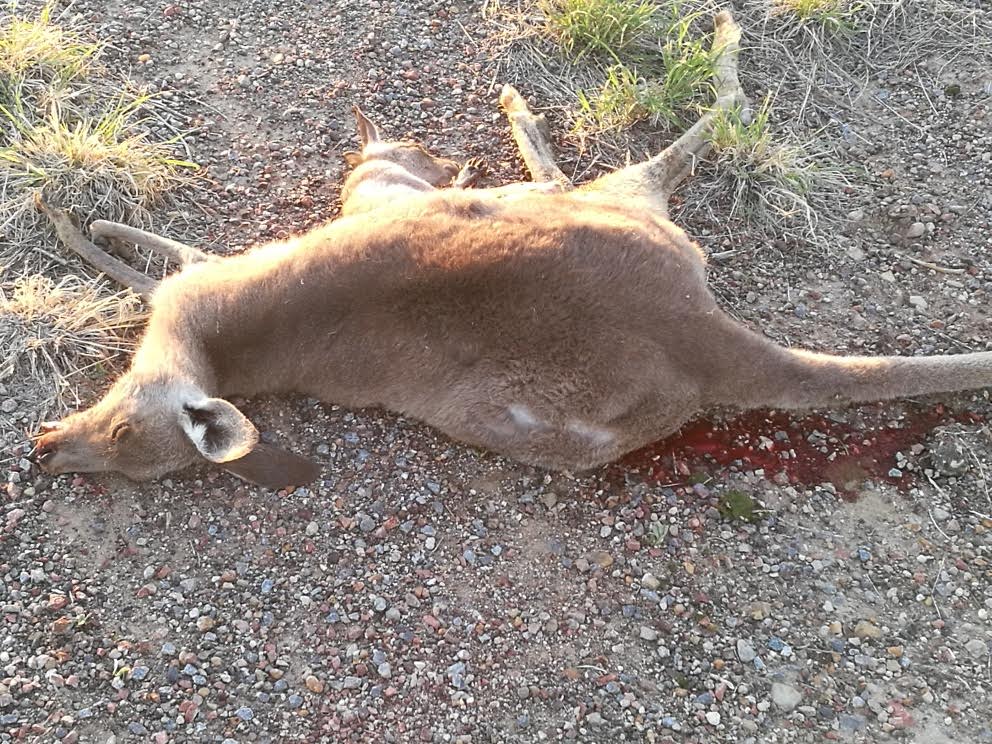 "I hit a 'roo [kangaroo] with the old bike and the skid plate took a lot of the hit and barely damaged it. I reckon the header pipe would have been torn from the cylinder head without it. The bike was rideable."
—Leigh Ainsworth
---
"I just received a phone call about a warranty issue for my Black Dog skid plate that's on my 2015 KTM 1190 Adventure. I still own the motorcycle and the skid plate has always been a part of the bike since it was new. In fact, the skid plate was so highly recommended, I installed the skid plate before I ever took it off road.
"I've ridden my 1190 in some very extreme conditions, I've raced hare scrambles most of my life and have ridden a police motorcycle full time for the 14 years of my career. I tell you that to say this, I've ridden my 1190 around several midwest XC tracks just to prove it can be done, I've ridden and completed all the extreme sections of the Kentucky Adventure Trail on my 1190 loaded down, it's completed four Iron Butt challenges, I love to ride!!! My point is without your product being affixed to my 1190 there no way possible the bike would have survived the condition I've put it through. The Black Dog Cycle Works skid plate is a 'MUST' have for any rider who actually rides true "off road" big adventure bikes.
"I can't count the number of trees I have center hung my bike on, or the amount of very large rocks/boulders that have stuck that skid plate, they sound bad when they hit at high speed but I've never had a bracket bend or break or any damage to the components that are covered by the skid plate, it's almost unbelievable. I've been ejected off the bike a few times and remember lying on the ground thinking the lower case has to be cracked or at the very least the clutch cover would be missing. Surprisingly, those things have never happened. Yes, my skid plate has dents, missing paint, but I proudly earned those.
"I want to Thank You, because if your company did not manufacture these skid plates, guys like me could not push these big adventure bikes to extreme limits. There is NO other skid plate manufactured in the world that will better protect a big adventure bike better than Black Dog. I've seen several broken skid plates which are not only very expensive to repair but I've ran across guys stuck in the middle of nowhere standing by their bike in a huge puddle oil.
"Some guys blog that guys like me are "stupid" for buying a $20,000 motorcycle and riding it the way I do. To those bloggers I'll say this: My bike is comfortable, I can travel long distances without stopping for fuel or being fatigued. The adrenaline rush of a 165-horsepower motorcycle is heart pounding and always puts a smile on my face. The places I have been able to ride to were once only seen from a distant blacktop road, the views are breathtaking and at times indescribable. If those bloggers who own and write about adventure bikes would protect their motorcycles with products such as the Black Dog skid plate, and learn how to ride, they would understand the difference between owning an adventure bike and experiencing an adventure bike. The fact is guys that have time to blog are called bloggers not riders.
"Sorry for the rant, I just wanted you to know that your company is appreciated by true adventure riders."
—Charles Murphy

---
"I also agree that the BDCW skid plate is bomber."
—TheGearDude, via ADVRider

---
"I have the Black Dog skid plate and it's solid and well designed, plus your dealing with some great folks—HANDS-UP for BDCW!"
—CJones10, ADVRider Thumpers forum
---
"BDCW makes incredible stuff. EVERY bike on our trip had one, and we absolutely swear by them. The Canary actually cracked his engine block a few years back on the AZBDR with his [name withheld] plate. We ride these bikes HARD and having the right equipment on these trips is great peace of mind. Even though this BDCW plate needed to be replaced, we view it as having saved the bike from damage that likely would have been worse with anything else in place."
—Randy Reider, ADVRider, Ride Reports—Epic Rides forum
---
"I installed my BDCW skid plate and sidestand relocation on my new 2017 KTM Super Adv R over the weekend. It is absolutely awesome! Looks so good on the bike and it is built like a Sherman Tank. I absolutely love it and look forward to putting it to work on the NMBDR in October."
—Loren Skinner, Friendswood, TX
---
"With my BDCW bashplate [skid plate] side stand relocator I have hit a massive rock with the side stand, hard enough to snap the high tensile bolts of the BDCW mount. I can carry a couple of spare bolts (now do) and would have hated that same force to be transmitted to the cases—I feel sure it would have ended in tears... KTM designs for "good enough"—the average usage and the average rider. And that is done while controlling costs of materials and machining. So, while the bikes are well engineered, they are by no means perfect."
—BigKuri, via ADVRider.com
---
"This showed up today... will take it for a test drive this weekend... I've used these plates on my 950s... they are solid. BDCW out of Idaho."
—OldFuddy, via ADVRider.com | 2012 KTM 500 EXE forum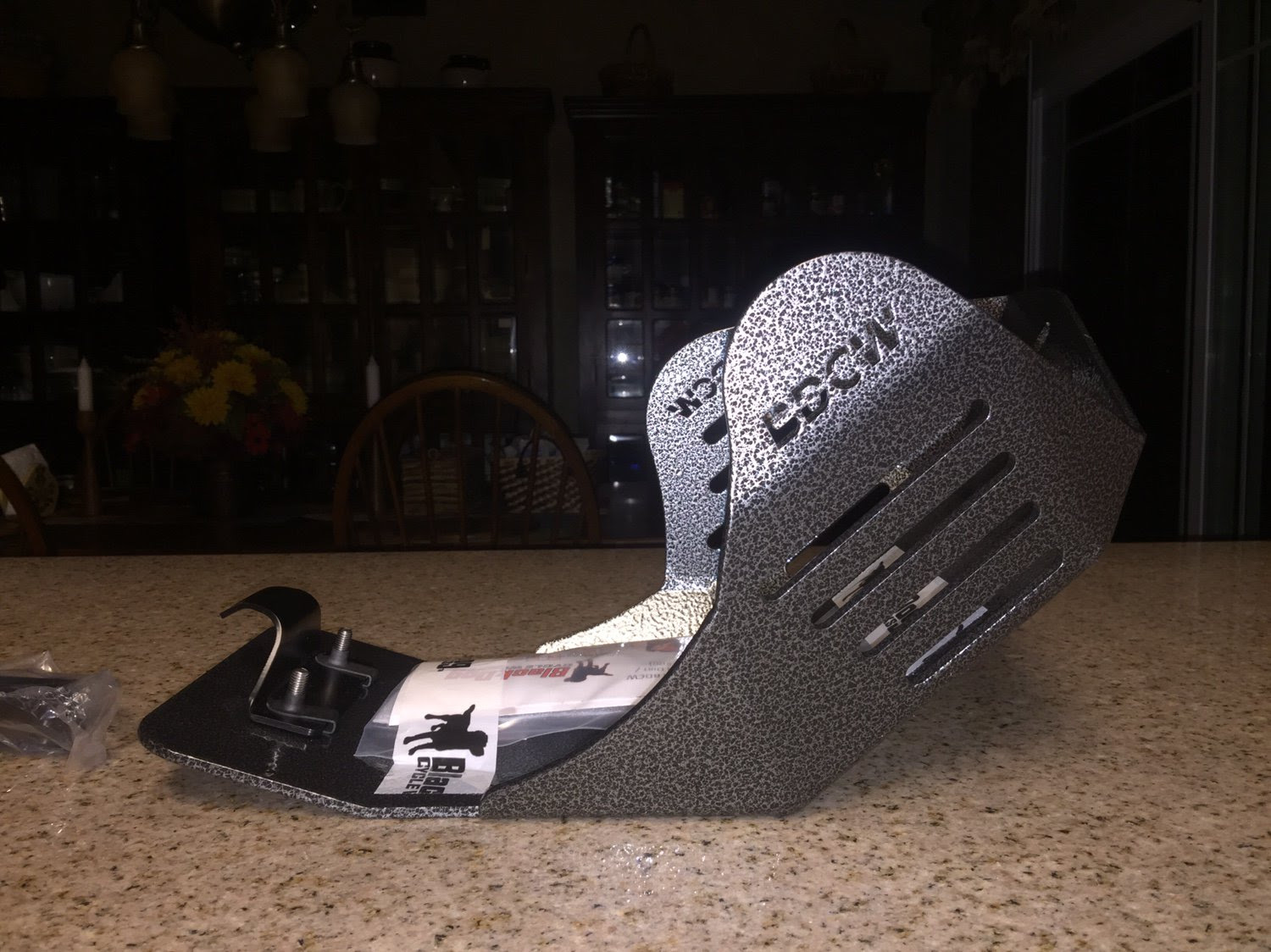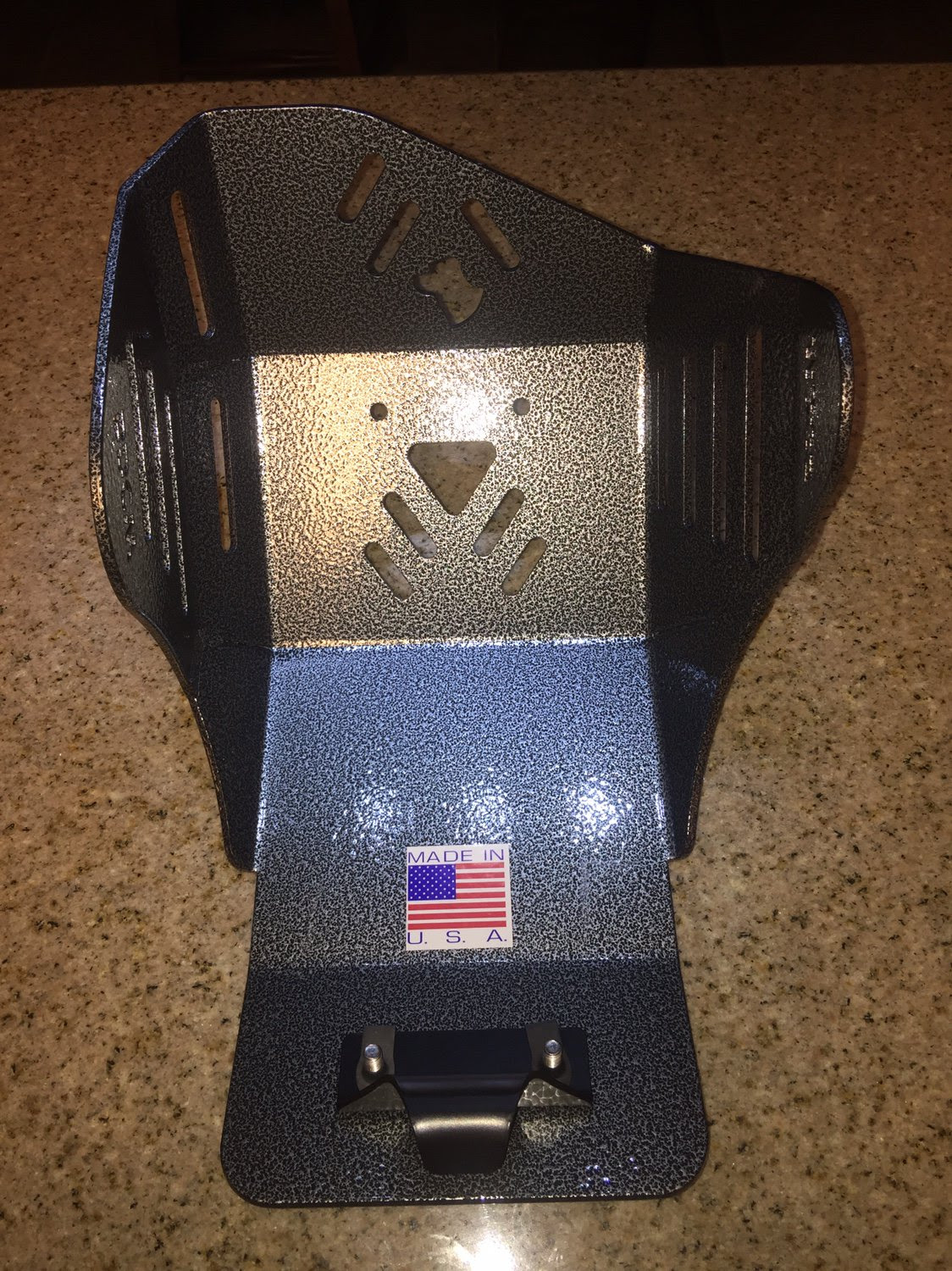 ---
"I have a Black Dog skid plate and side stand re-locater they are both Great and expensive, if they save my cases they are well worth it. so far so good!"
—BillBob412 (via ADVRider.com | KTM 950/990 stock bash plate opinions in Crazy-Awesome almost Dakar racers, 950/990cc) forum
---
"You really get what you pay for. If you're going to ride to Starbucks and bar hop with your Harley buddies, the cheap plates will work just fine. If you're going to ride serious off road then a good plate is important and cheap insurance. The side stand relocate comes standard with the Black Dog and it's a nice piece of work. It's all made here in the U.S. so your keeping some guy making them in a job. I'll pay more for that!"
—JThomas82, via ADVRider.com
---
"The mounting system is very slick, the protection coverage is better than most others, and the BDCW build quality is top notch. I have zero doubt that I'll be pleased with going this route. The additional 2–3 lbs. of weight is carried low so I'm not concerned by that."
—CJones10, ADVRider Thumpers forum
---
---
"I did Black Dog as well and loved them."
—Ranshell, AfricaTwinForum.com
---
"I have the Black Dog skid plate and it's solid and well designed, plus your dealing with some great folks—HANDS-UP for BDCW!"
—CJones10, ADVRider Thumpers forum
---
"Just received my skid plate for my R1200GS LC. I'm an 'average' mechanic. It took me 1.5 hours to install the plate and everything went perfectly. That never happens. What a beautifully made and functional improvement. The fit and finish are outstanding and the instructions were excellent. Thank you for such an excellent, American-made product. Hope to meet you some day."
—Brett Bauscher
---
"I installed my the BDCW skid plate and sidestand relo on my new 2017 KTM Super Adv R over the weekend. It is absolutely awesome! Looks so good on the bike and it is built like a Sherman Tank. I absolutely love it and look forward to putting it to work on the NMBDR in October."
—Loren Skinner, Friendswood, TX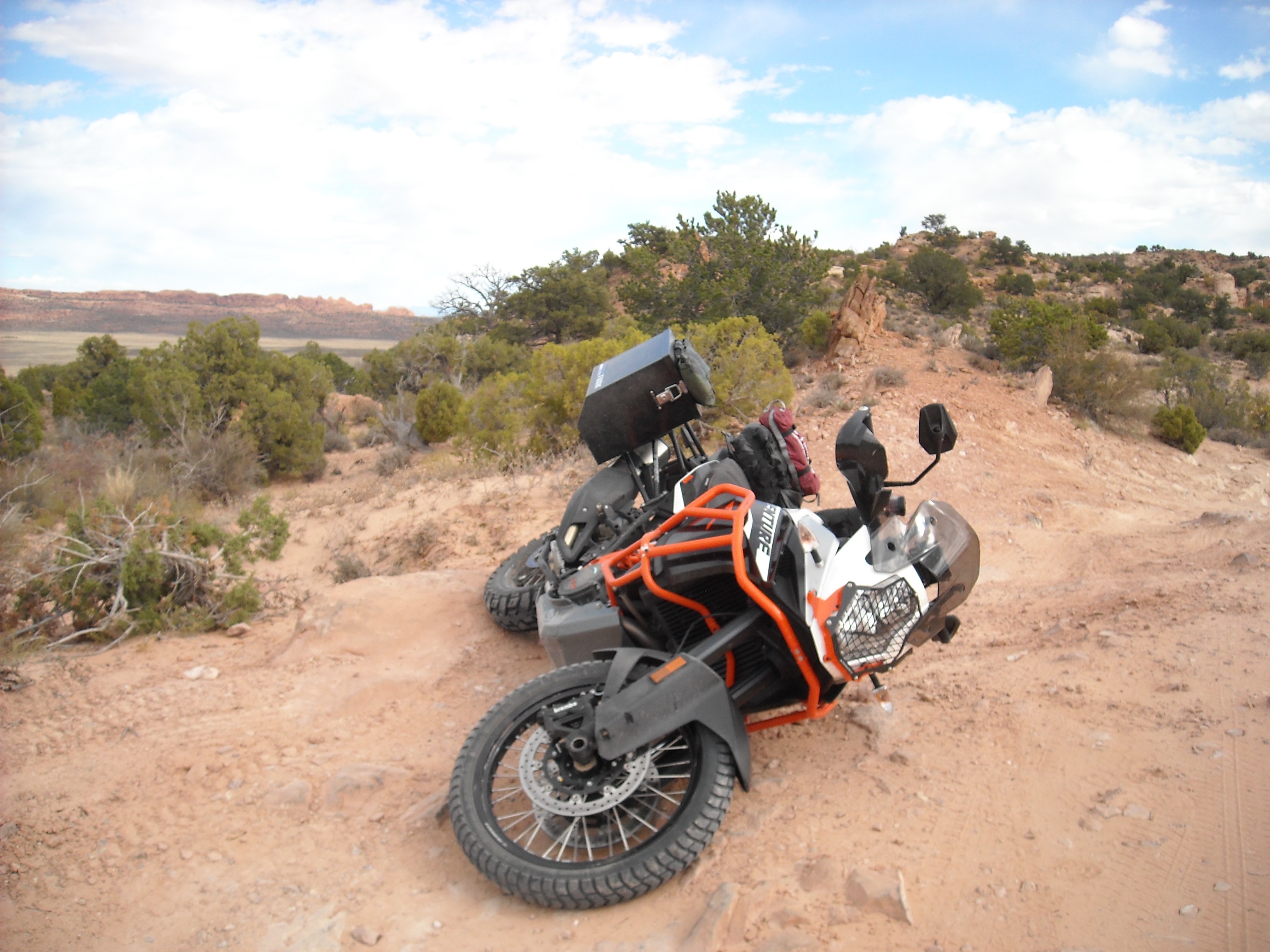 "You cannot see from the picture but I was bouncing off huge boulders in an off-road area near Arches State Park. The trail became impassable and I had to turn back. On the return, I lost it and hit the ground hard. The throttle got stuck open and the bike kept getting pushed on the ground—it sounded like the movie Titanic when it hit the iceberg. It crunched a hard bag and scraped up the crash bars. Much of the impact was taken by your skid plate and it looks like a bullet hit it. The paint chipped but zero deformation to the pan and there was no load transfer to the engine. I spent a couple hours that evening straightening the bag with a block of wood and a hammer but the pan required no attention. This was a 3,200-mile trip focusing on finding ghost towns and gold mines and the pan functioned flawlessly. Also, I would never attempt this with the side stand still attached to the engine. Thanks for a great product and even better support. Getting ready for another trip of the same kind and your products give me the confidence to undertake these adventures solo."
—Dwight Waldo
---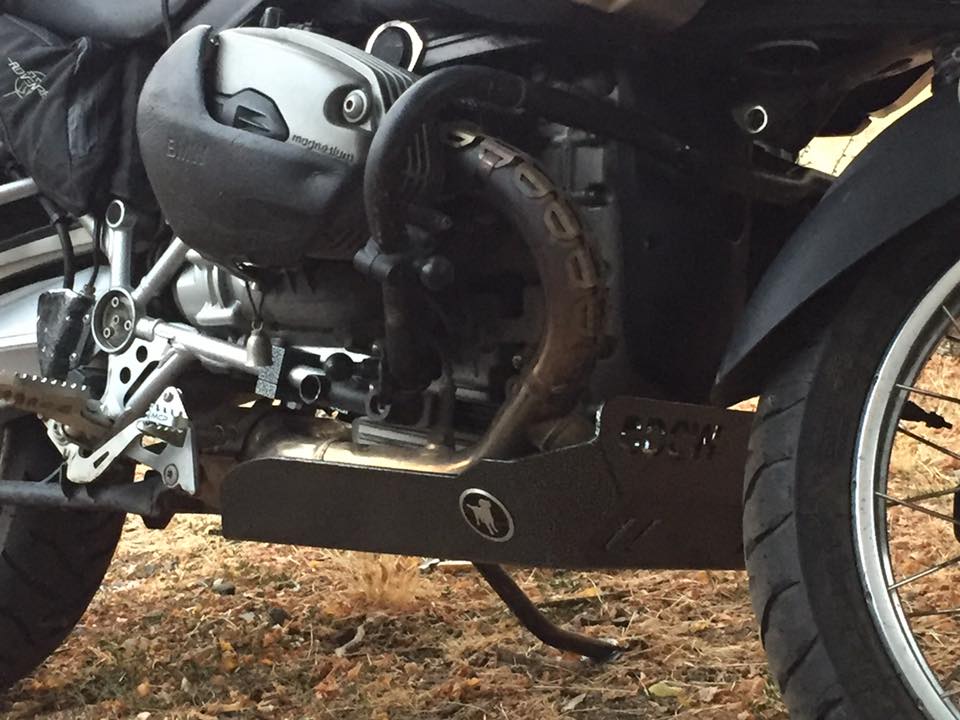 "After shearing off my R1200GS skid plate twice it was time to go with what I know works. No other skid plate 'system' has held up as well as the one from Black Dog Cycle Works.... Thanks Kurt Forget and Martha Morse Forget for building a product that stands up to my use."
—Bret Tkacs. PSSOR
"Agreed! Had the same experiences on my F800gs Adventure. Way better now with the Black Dog Cycle Works skid plate!!!"
—Tad Haas, MotoStays.com
---
"Skid Plate: Only because the stock piece provided by the manufacturer is there more to deflect 'road debris' than grapefruit-sized rocks, and believe me, I heard many big stones bounce off the Black Dog Cycle Works plate I chose for the trip. It did its job well!"
—Alfonse Palaima & Colin Evans
---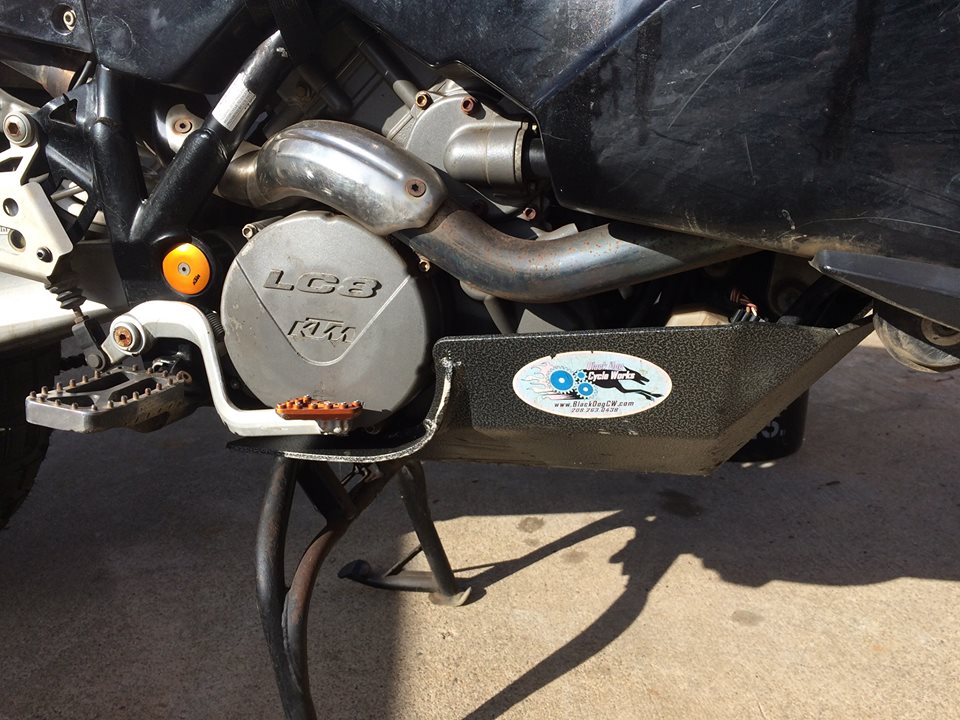 "I'll be putting my 9-year-old Black Dog skid plate to the test yet again this upcoming weekend in Baja. This thing is a beast. The dents and deep scratches tell their own tale. One that says any other skid plate would be dead by now. Along with my cases."
—Charles Walter
---
"If you've not already done so, check out the BDCW's KTM skid plate with side stand relocation kit. It makes the side stand more stable (and also prevents the side stand from damaging your engine case in a crash)."
—Kevlar930 (ADVRider)
---
"I received my skid plate yesterday and gave it a thorough examination. I'm a practical hands-on engineer with over 30 years in the Merchant Marines. I can fabricate and weld, so I critiqued your product upon arrival. I was quite impressed and pleased. While the price was hefty the quality is there. I (and most) will pay for a quality product made here in our country. It's actually a piece of art. The welds are neat, clean and full length on both sides, the Shok-Blok is attached with a nylon lock nut, the Black Dog emblems are pretty and good quality, and the paint job is cool. Overall, it's a quality sturdy piece of equipment.
"So, three cheers for you guys and keep up the good work. Please do not cut quality or product outcome to increase your market share or bottom line. Continue to build everything as if you were in your garage building it for your own bike. We will pay for you to put out the best product you can. If you can do that and continue your personalized quality customer service.... 'If you build it we will come.'"
—Craig L. Feldmann, 2006 950 Adventure
---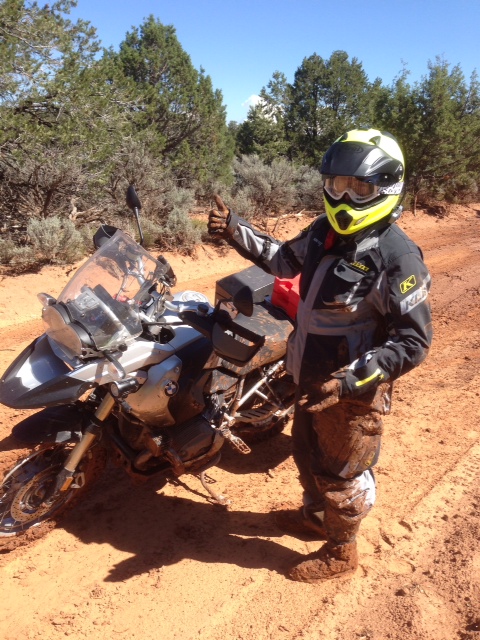 "Me and t
wo
buddies traveled the Utah Backcountry Discovery R
ute (BDR) in the fall of 2013. We all rode BMW R1200GS/GSA bikes. Each of us was equipped with the Black Dog skid plates. I can state for an absolute fact that there would have been no way we would have returned from this trip with conventional skid plates. Our skid plates held up to numerous encounters with rocks and boulders. Too many times to count I bounced off rocks on the center skid plate. The only casualty was I lost some mounting hardware for the center stand guard. Thank you for building such a robust product. It is definitely of high-quality and worth the price."
—John Kirkeide
---
"Your 990 bash plate sure does the job. Cased the bike a couple of time last weekend and bounced off the Goler Wash steps the weekend before—you guys make great stuff. Here's a little snippet from our last trip."
—Todd Richards
---
"I wanted to forward a few photos of the BDCW skid plate (for the R1200GS LC). Took about 20 minutes to completely install it. Easy-peasy. Take a look at the size of the stock PLASTIC skid plate compared to the BDCW.
Why BDCW?
It covered the catalytic converter

Two bolts and it's off

Easy to get ahold of a human at BDCW, and

American made... I like when our guys are getting the work, not built and assembled in China."
—Mark Holloway (ADVRider post)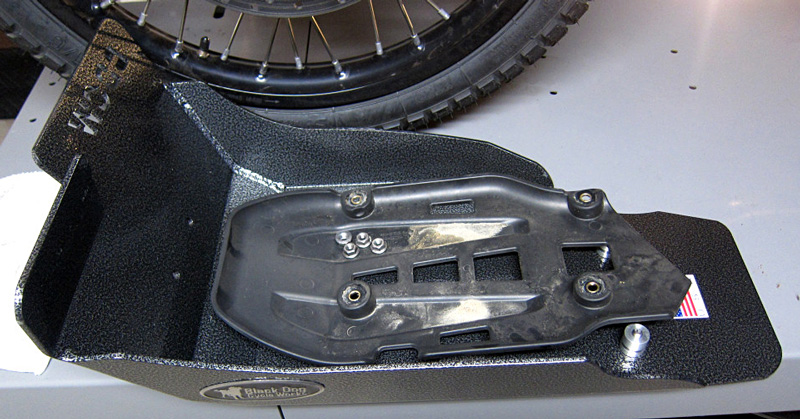 ---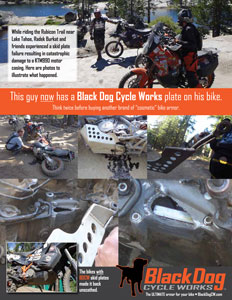 CLICK ON IMAGE TO SEE FULL SIZE IMAGE
While riding the Rubicon Trail near Lake Tahoe, Radek Burkat and friends experienced a skid plate failuare resulting in catastrophic damage to a KTM 990 motor casing. Here are photos to illustrate what happened.
---
"All mounted up and good to go. Love your stuff! Haven't been able to break your bash plate yet. And I have tried!"
—Ken Newcomb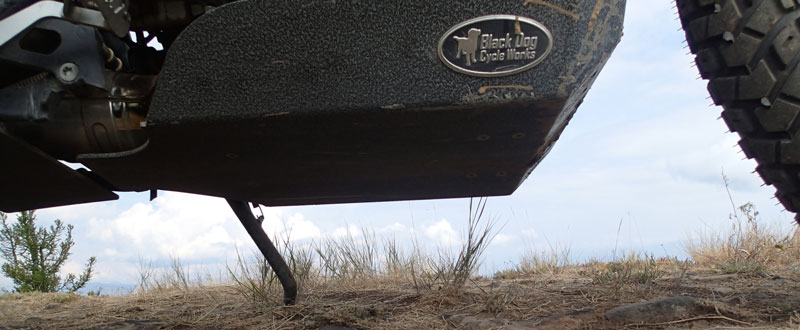 ---
"I appreciate all the great customer service. The products are bombproof also! You know they have to be if I am going to try and follow Bret around! Thanks again for everything."
—Paul Solomonson, Puget Sound Safety Instructor
---
"Have to let you know how much I like your product. I just came back from Max BMW GS Rally. Great around Hunter mountain course. Last year it stripped the stock skid plate. This year I just bashed my way through the ride without any damage, just a big grin."
—John Carney
---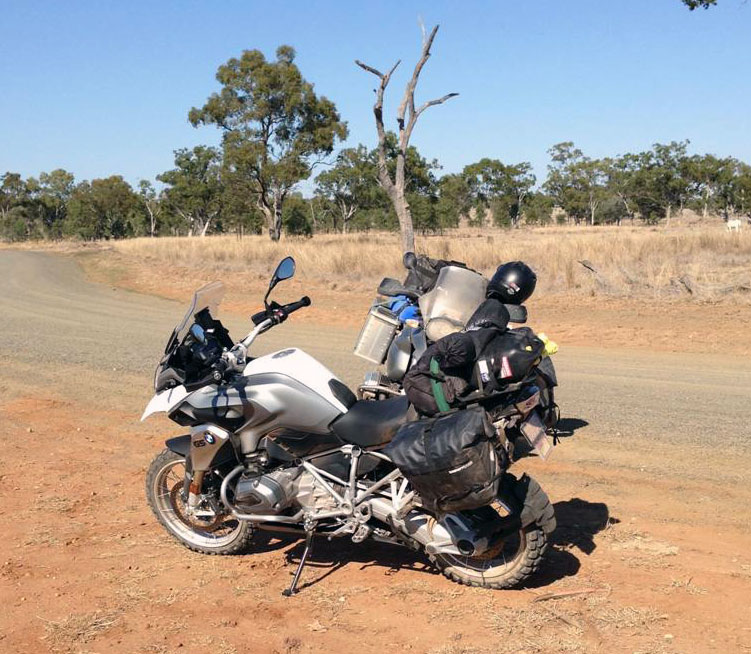 "Just want to let you know I am very happy with the products I bought for my new R1200 GS—the bash plate is excellent. My 3,000 kilometre trip in Queensland was all good. Nothing like being in the middle of nowhere in Australia. Attached is a photo of my bike on my recent ride in Outback Queensland."
—Peter Keating
---
"Love the BDCW products, use the bash plates on both the KTM and the Beemer!"
—John Welsch
---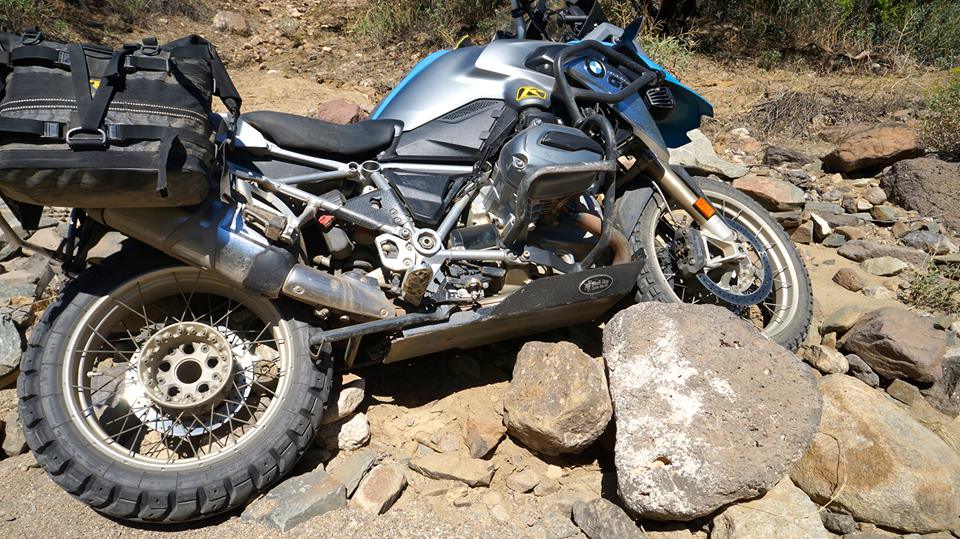 "Got yourself the new BMW R1200GS LC? Take a look at this photo and see what we use to protect our bike. The BDCW 'Ultimate Skid Plate,' which earned its legendary status with the outgoing GS and GSA is just as tough for the new Water-Boxer. It's been tested on Colorado's toughest GS trails and here in AZ....'nuff said. The Hepco-Becker crash bars, available from BDCW, are working great too as indicated by the scuff marks. We are extremely pleased with the protection combo. Thank you BDCW."
—GS Riders of GO AZ BMW (from FB posting)
---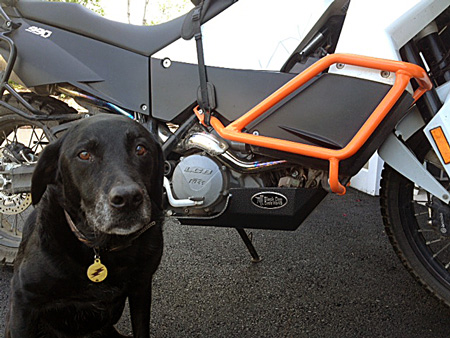 "My black dog (Macy) sure likes the new skid plate for my 990. It fit perfect. A nice piece of craftsmanship. Thanks."
—Tracy Mackenzie
---
"Awesome skid plates! I just wanted to drop a quick note, I ordered a BDCW skid plate for a BMW F700GS not too long ago and it arrived super-fast—I had it installed in no time. That same day, I was making my way through the concrete jungle and introduced myself to a curb, which ended up being a bit of a ledge, slamming right into the new skid plate. It was so loud and forceful that I was sure the new skid plate and everything it protects were damaged. But, after a thorough inspection EVERYTHING WAS PERFECT! No damage. I couldn't believe it, and was just utterly impressed!

"But, here is where the story gets frustratingly interesting! A week or so later, after riding from El Paso to Los Angeles, I found MY bike... the new liquid cooled R1200GS in a LOW... of course I had to have it! Ha-ha! Anyway, moral of the story is that even though I just purchased the skid plate for the F700, I will soon be—without a doubt—ordering the skid plate for the 1200GS LC as soon as I am able.
"Your products and just great, simple, and reliable products. Thanks, and keep up the awesome work!"
—H. Stilgenbauer
---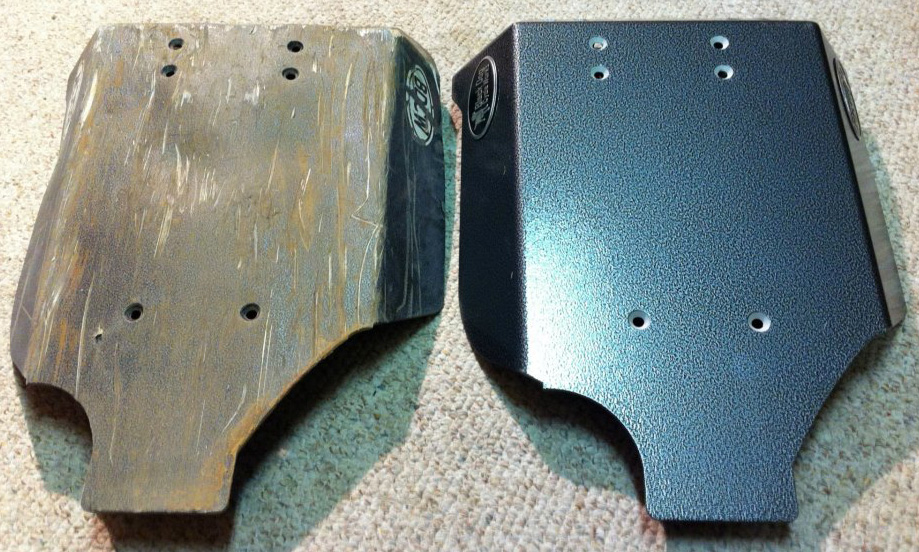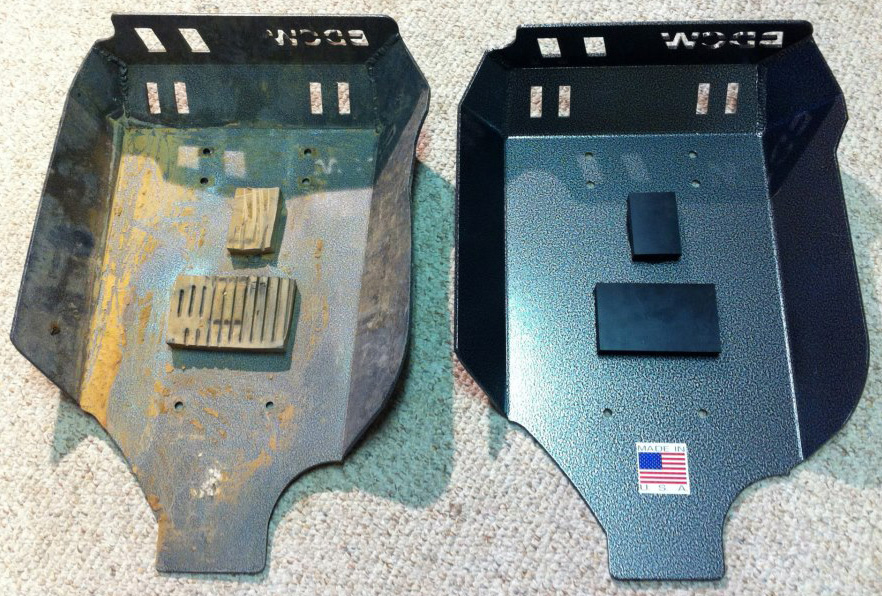 "After the New River Canyon ride I knew I needed to do some maintenance on my BDCW skid plate. The two mounts at the front of the motor were bent and I had spares so I figured lets swap them out. Jason was installing a new BDCW skid plate for a buddy so I thought it was the perfect opportunity to compare a new one with a slightly 'abused' one."The thing that really stuck out to Jason and I was that as beat up and ugly looking my 'abused' skid plate was, it still was working exactly as it was designed to. That's the beauty (in the eye of the beholder, remember?) of this skid plate. It's taken its share of dings and wallops from rocks, boulders, etc., but, it keeps on ticking! The pictures really show you how it is still structurally sound. You can see that the two front mounts did exactly what they are supposed to do... collapse under great force so they spread the impact.
"The replacement of these front mounts is easy. I recommend that you keep spares on hand just in case you encounter a big boulder. My BDCW skid plate is approximately 15 months old and it's been abused. It's the single-most important piece of protection I have on my GSA (BMW R1200GS Adventure). Without it, my GSA would probably still be stuck on Dugas Road, with it I have taken on some of the hardest trails a GSA can tackle."
—Mick Williamson, AZ (GS Riders of GO AZ BMW)
---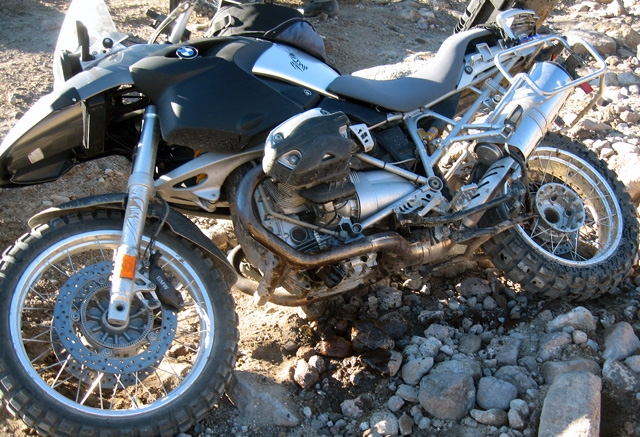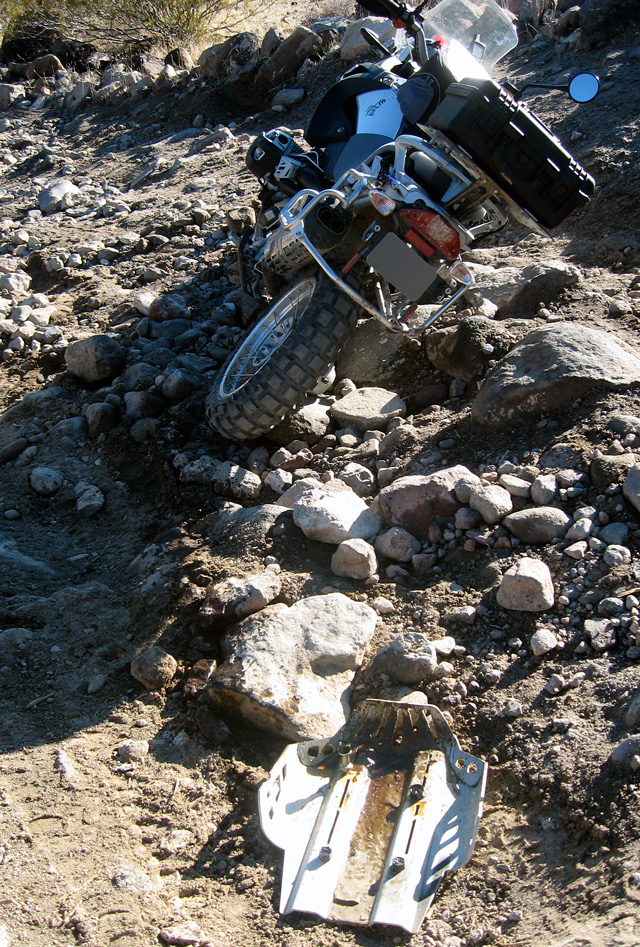 "Thanks for the great customer service. I can't wait to get this thing [BDCW skid plate]. Did you see the pictures? That was about 50 miles from any real road and 75 miles from the smallest town on a pass near Death Valley (Mengel Pass, top of Goler Wash, near Barker Ranch). In the pictures you'll see the ripped off [competitor's name removed] skid plate and filleted oil filter below. It didn't even feel like much as I hit a rock then rode for a few feet before I heard my engine get louder due to the lack of oil."
—Justin Mank
---
"I've tried and tried to tear up that skid plate. Kurt got it right for sure!"
—Bill Dragoo
---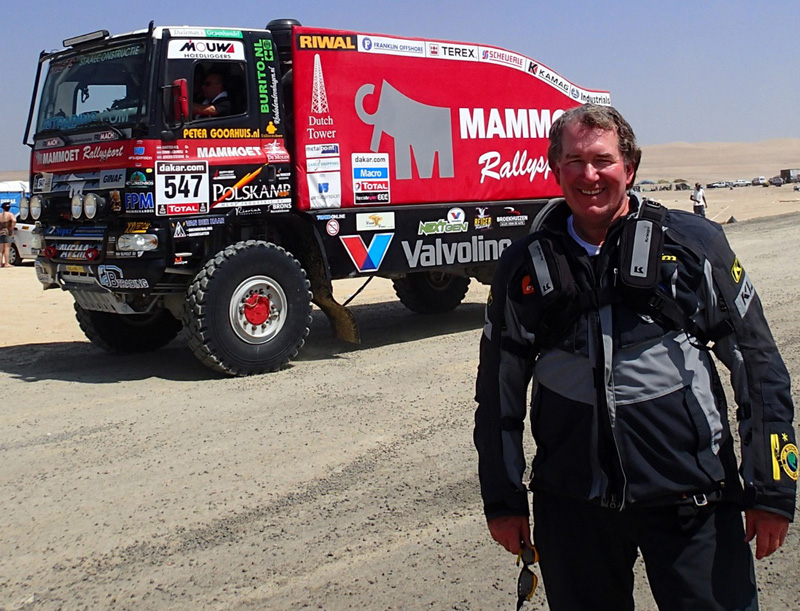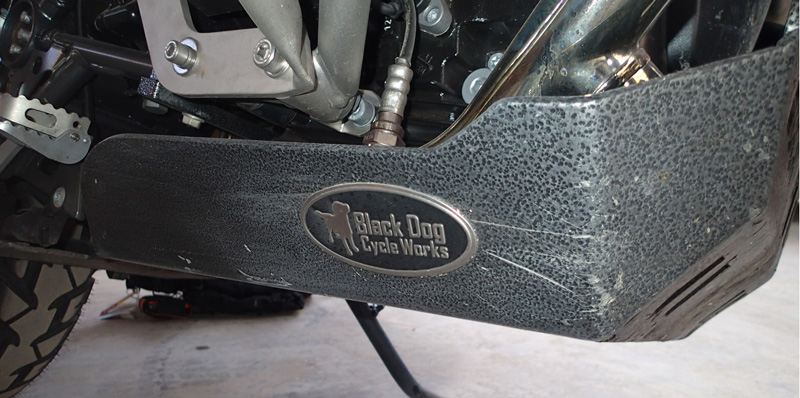 "This thing is tough. It continues to take a beating! Riding along with the Dakar seems to put it to the test."
—Bill Whitacre (with Jim Hyde at the 2013 Dakar)
---
"Just wanted to say thanks for making a great product. Last month I bought a skid plate from you for my 990 because of what Nedro and many other have said. This weekend I beat the shit out of my bike at the Adventure Riders Challenge. I got 2nd place in the team challenge. Rocks as big as small cars—yup, I bashed 'em. Logs bigger around than you—yup, I high entered on them. Bike kept on rolling. The 15 torn off GS skid plates didn't get so lucky. LOL. Keep up the good work."
—Paul, Santa Clara, CA
---
"Thanks for the amazing skid plate and the tip about the kickstand!"
—Kyle G., Boca Raton, FL
---
"My skid plate is awesome, prior to getting the Black Dog skid plate, I didn't have the confidence to ride the SE over rough terrain they way it should be. Now I can take my SE anywhere without worrying about punching a hole in the plate and causing damage to my bike. Whether I am single-tracking the SE in the mountains or hammering through the Nevada desert, I have tested the Black Dog skid plate in all conditions and it has held up great without even a dent. With the rides I am used to, 300+ miles a day, I can't afford to have anything but the best and the Black Dog skid plate gives me that extra comfort of traveling far from home without worrying about damage to my bike. It is easy to mount, clean and looks great. I recommend it to all of my riding partners with 950s, especially if they want to ride Dawn to Dusk."
—Casey McCoy, former KTM Factory Dakar racer, Mammoth, CA
---
"Just wanted to say that I installed your skid plate on my 950 last night, and was very, very impressed by its fit, finish, and quality. Thank you for making such an excellent product—I wish all internet businesses held themselves to such high standards! Also, FYI, your skid plate provides the extra room (and plenty of it) required for the Facet fuel pump (it hits the stock plate)... a good solution for anyone installing the Facet."
—Jeff Cavicchi

---
"I ordered your 950 side stand bracket last week and I installed it this evening. I just want to say that it installed without a hitch and that I am very pleased with the product. I am using a Black Dog skid plate and this bracket just completes the combo. I will be recommending this product to other 950/990 owners."
—Ken Hansen
---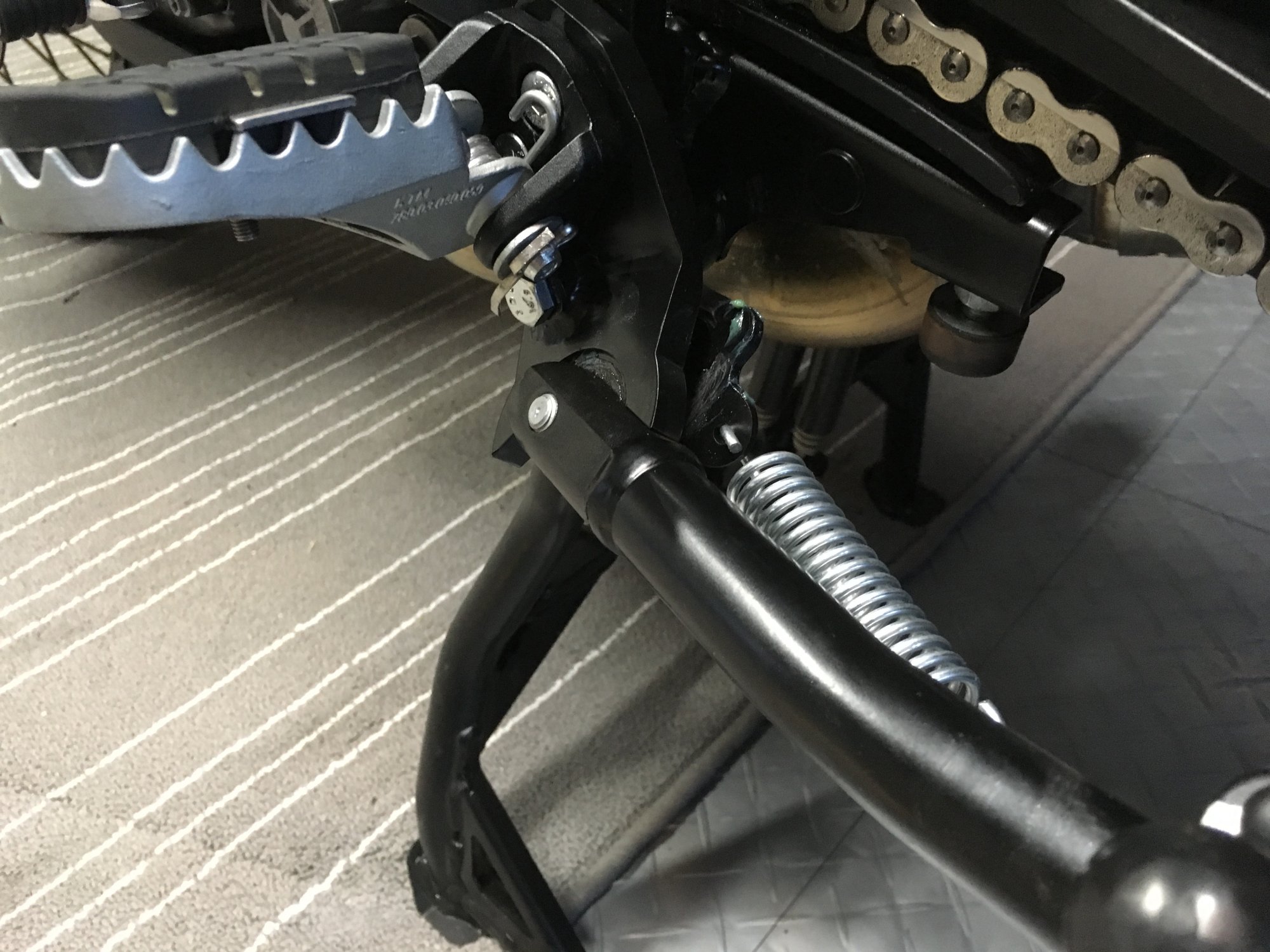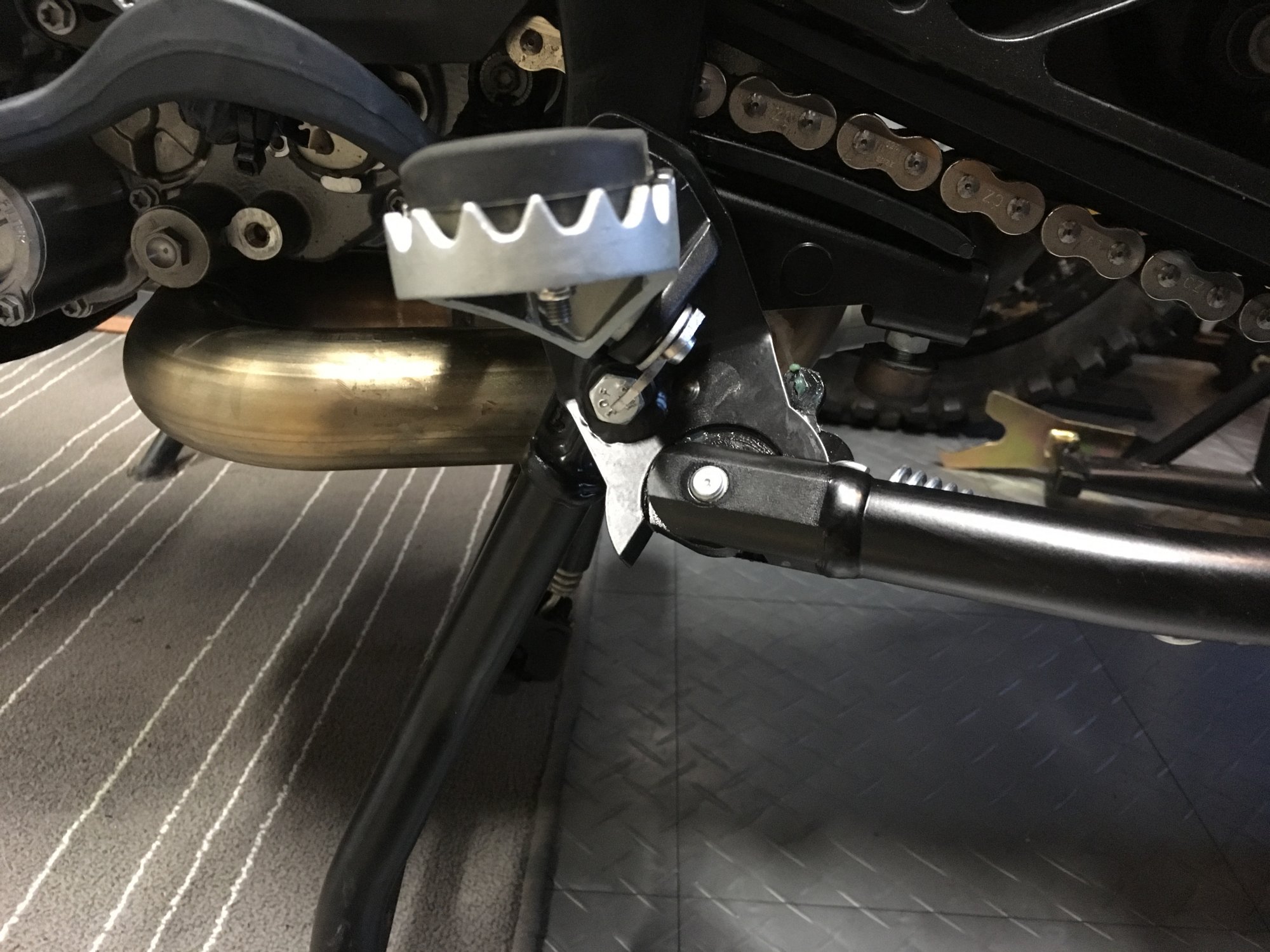 "Included instructions were excellent. Install process was pretty straight forward. Hardest part was aligning the bolt, through the bracket, through the center stand, to catch the thread. Took a bit of muscle and fidgeting the center stand around. Bike does lean over more on the stand, but the thickness of my foot enlarger almost negates the effect. Without the relocator, bike may be unstable on side-stand. The bracket seems very well built and beefy. The new location of side stand makes oil changes a little more cleaner job. The new location of side stand also gives shorter inseam folks an easier to reach and work the side stand. Due to thickness of bracket/spacer, it pushes out the location of pegs about ½", which is most welcomed for me because I felt stock pegs/stock location was too narrow. I am happy with the purchase and would buy Black Dog products in confidence."
—NuckaMan (ADVRider)

---
"The BDCW can definitely take a beating and is mounted to the frame as well. BDCW plates take a beating. Period. That's what BDCW does. However, you lose ground clearance with it, but it will definitely prevent a rock putting a hole into the bottom of the engine when struck by a rock. On the other hand, severe lean angles will suffer in the twisties. I would go with the BDCW if I rode 90% off road with frequent rocky terrain, giving up a little ground clearance for probably the best perforation protection you can get and also giving up a little bit of lean angle in the twisties that I would not be riding that much or as aggressively."
—slowfall (ADVRider)
---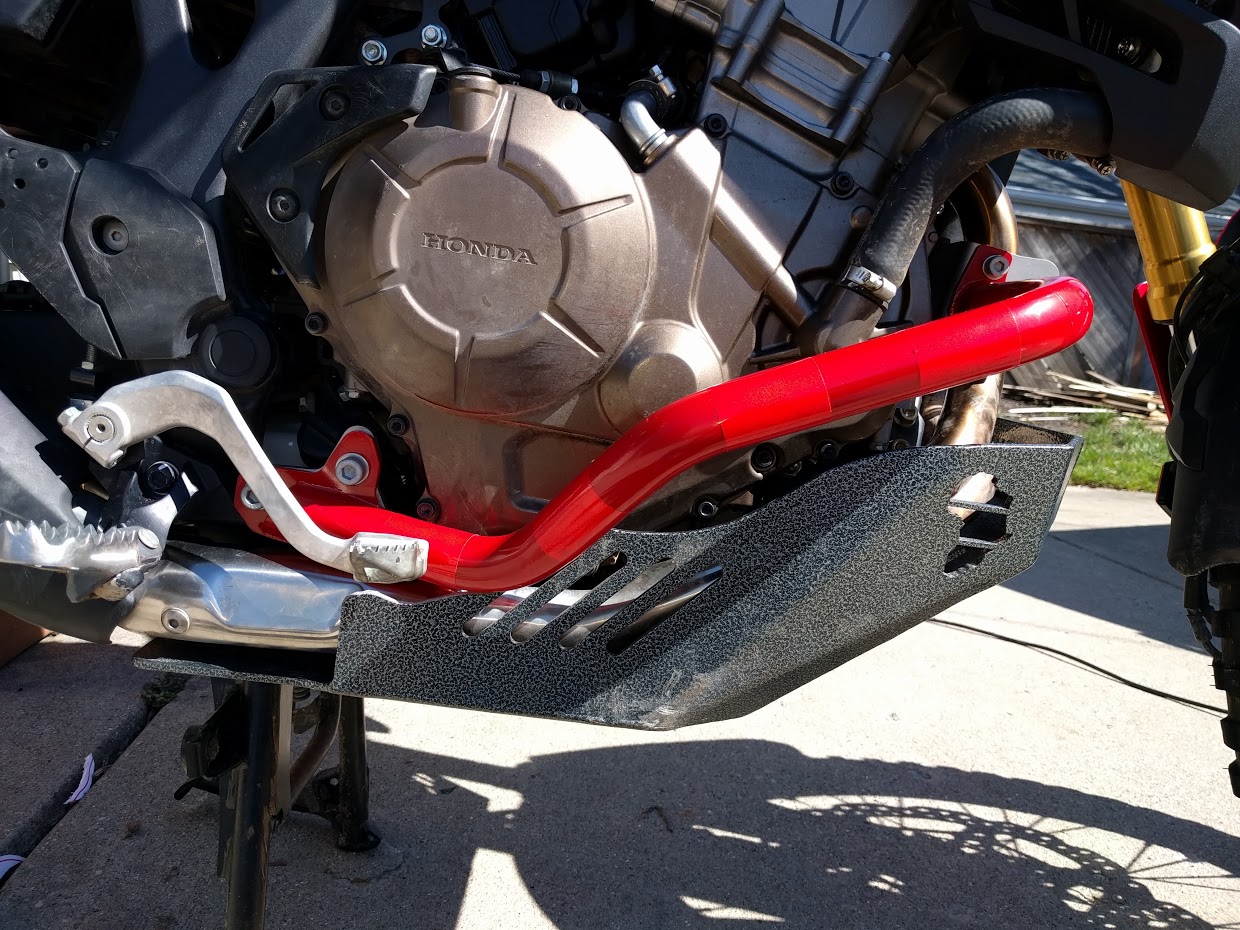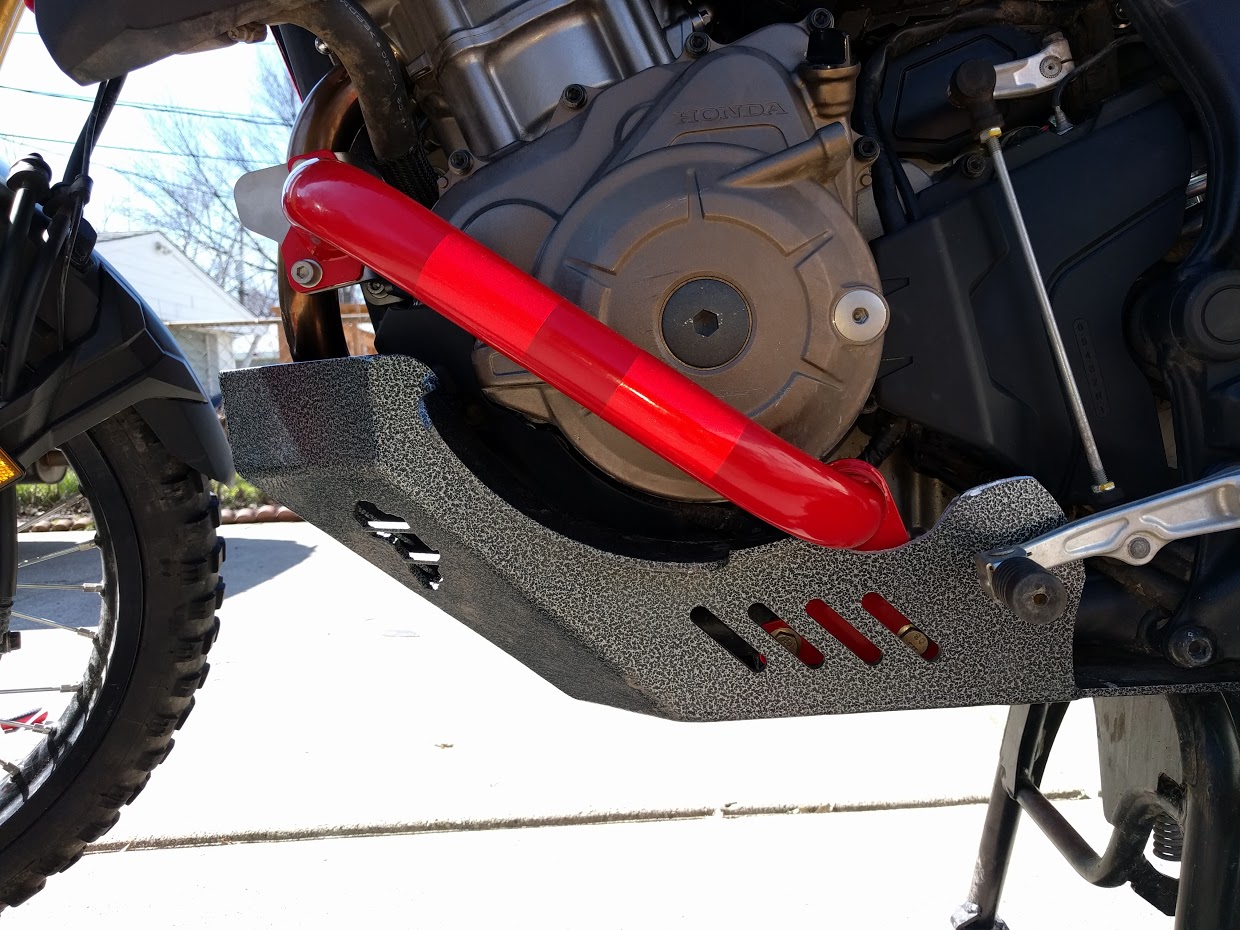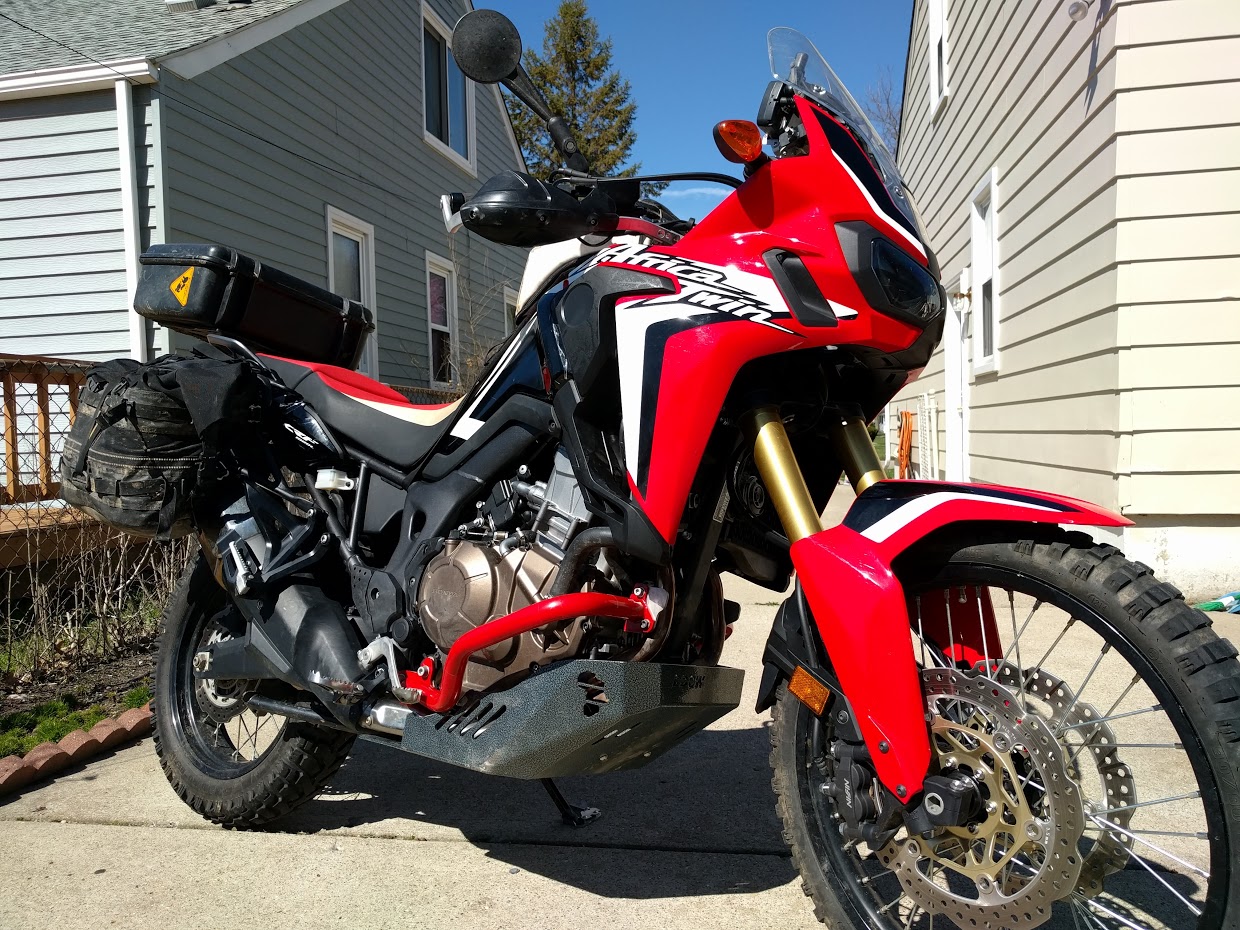 "I recommend the BDCW skid plate to everyone I know. They are definitely a cut or two above those shitty brands like ____."
—BMacW650 (ADVRider)
---
"I installed the BDCW skid plate to my SA and couldn't be happier. The company is great: when you call, they actually answer in person. The owner (Kurt? I think) has a SA and will answer all your questions. The skid plate is insane. I feel like my bike could be used to clear landmines in the Middle East without getting a scratch. Seriously, you will not find a tougher skid plate."
—advlust (ADVRider)
---
"After dropping my bike (2016 GSA) on my foot during a creek crossing, I decided I needed something more substantial than my Sidi touring boots. Probably overkill, but I just took delivery of a pair of Sidi Crossfire 2 SRS boots. These things are to boots what Black Dog is to skid plates!"
—Fastman (ADVRider)
---
"A Black Dog Cycle Works skid plate. It's massive, solid and works."
—RJAMT (ADVRider)
---
"For what use? Highway riding, forest roads, dirt trails? I like the Black Dog skid plates. They're way more protection than you need for day to day street riding, but sometimes overkill is just enough."
—cds247 (ADVRider)
---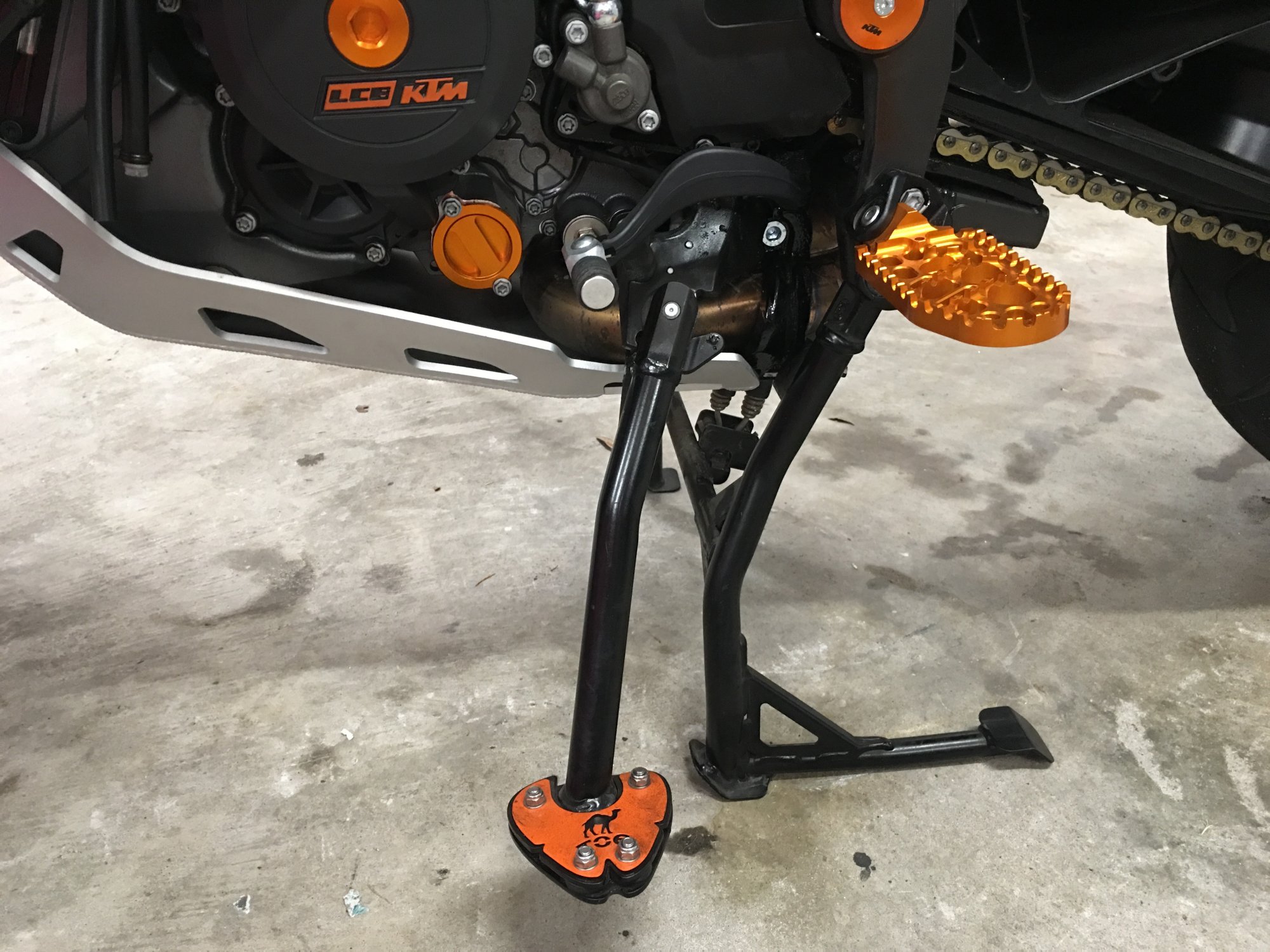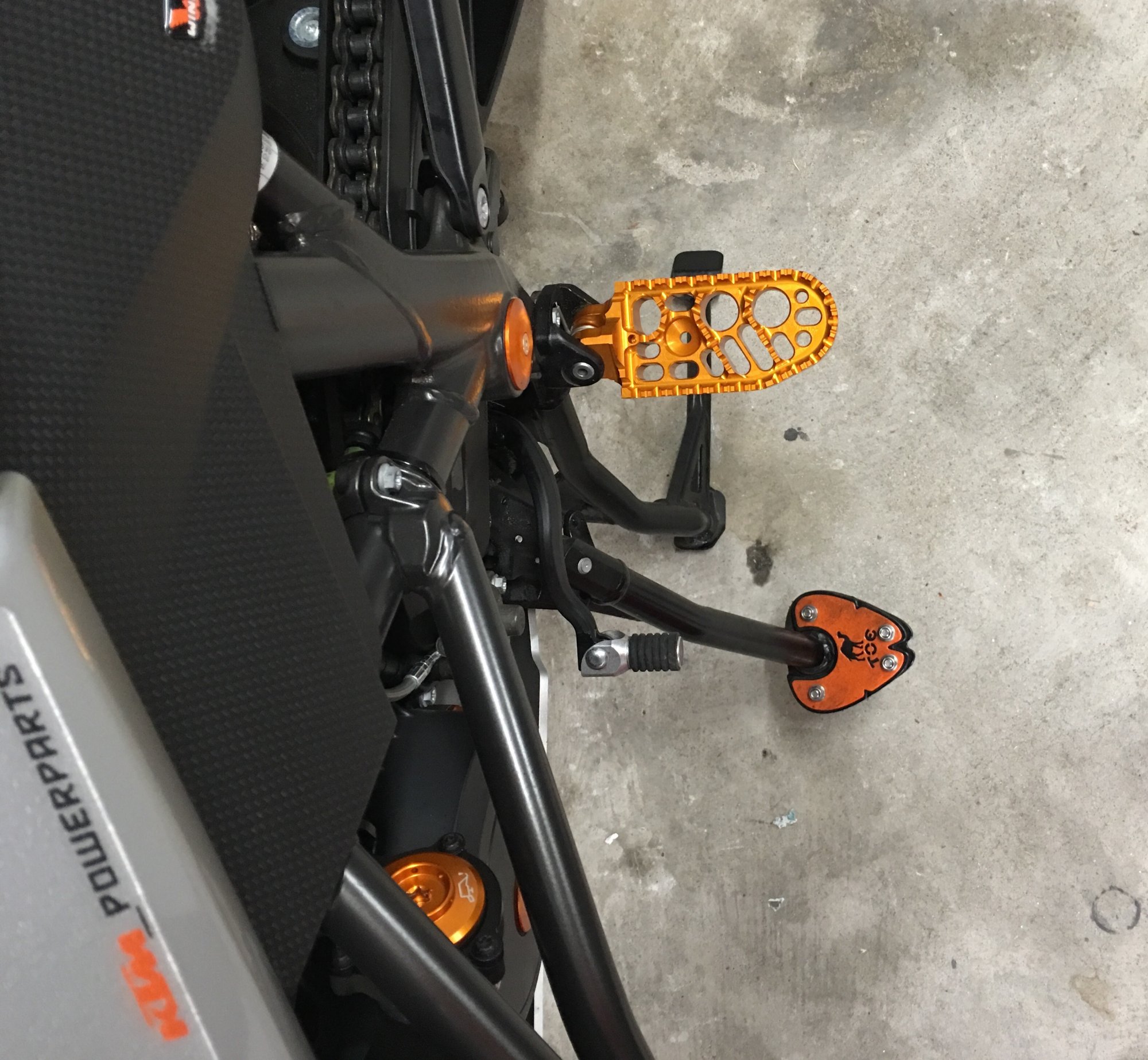 "In Colorado, it works just as well. I'm glad I installed the Black Dog skid plate. all the rocks I heard bouncing off that thing was music."
—Assfault (ADVRider)
---
"+1 on Black Dog skid plate, when I was riding a few sections of the Utah BDR, every time a loud clang came from the skid plate I thought to myself "Thanks Black Dog!"
—jjustj (ADVRider)
---
"Thoughts on the Black Dog skid plate? Anything Black Dog is top notch!"
—mac w b (ADVRider)
---
"I would recommend any and all riders that are going to really take their 1190s off road, order the Black Dog skid plate. Kurt is an awesome guy and builds a hell of a product!!!"
—sbar308 (ADVRider)
---
"Got a BDCW skid plate on my 2015 GS. Out here in CO it has made wonderful music with the rocks pinging off of it and still looks good. I choose that plate over others for the protection it offers and recommendations of more hardcore riders."
—Cataract2 (ADVRider)
---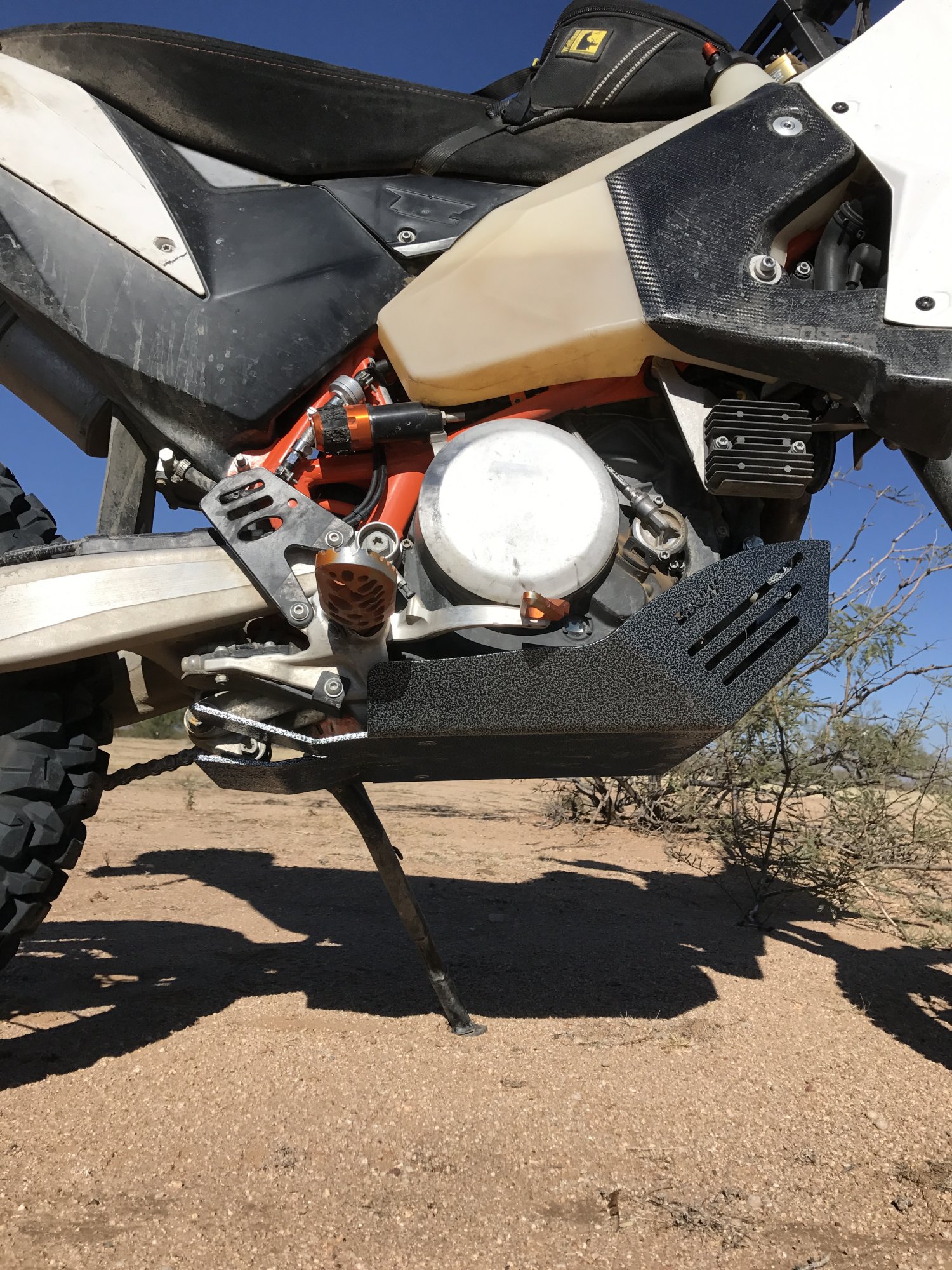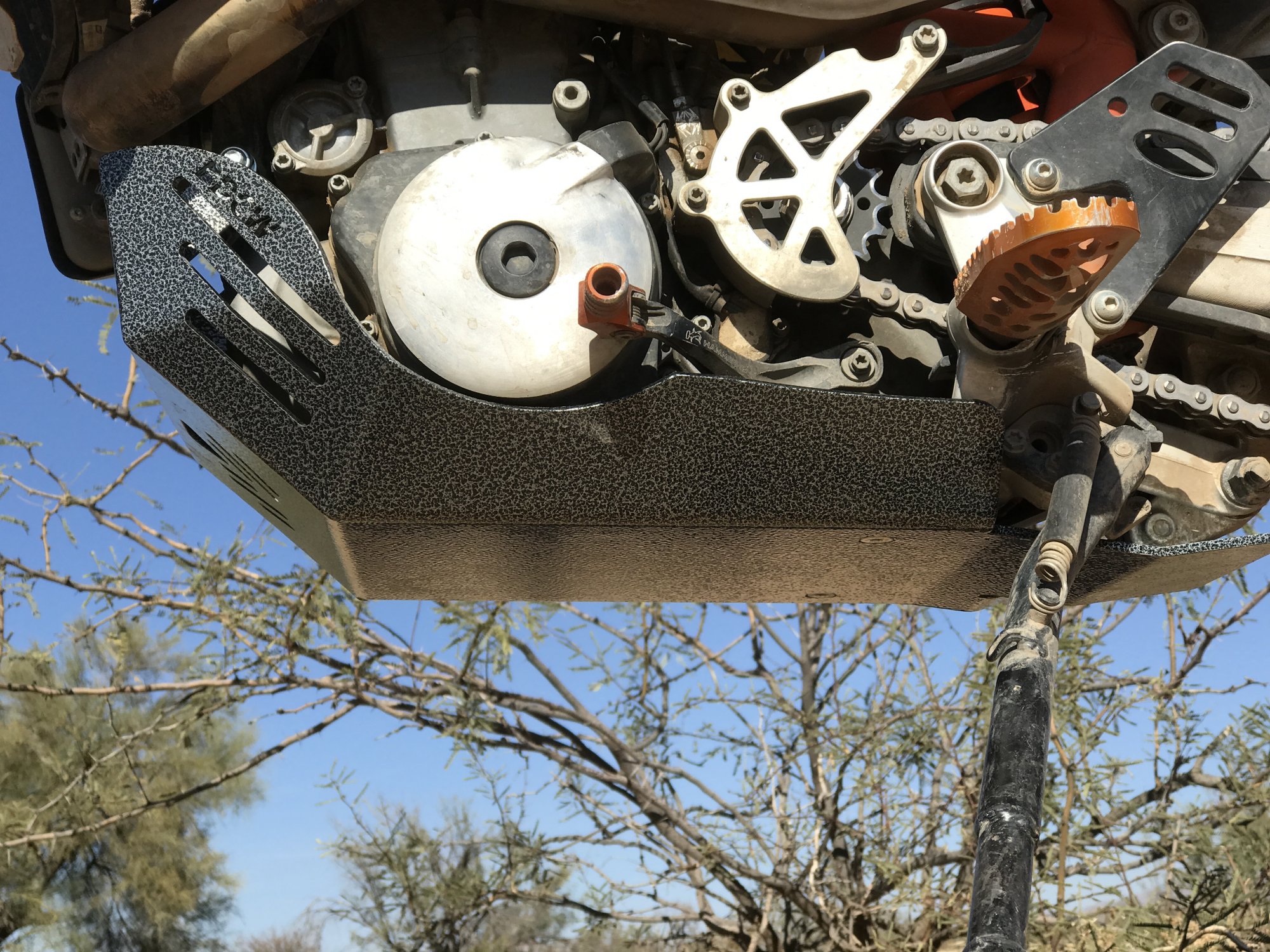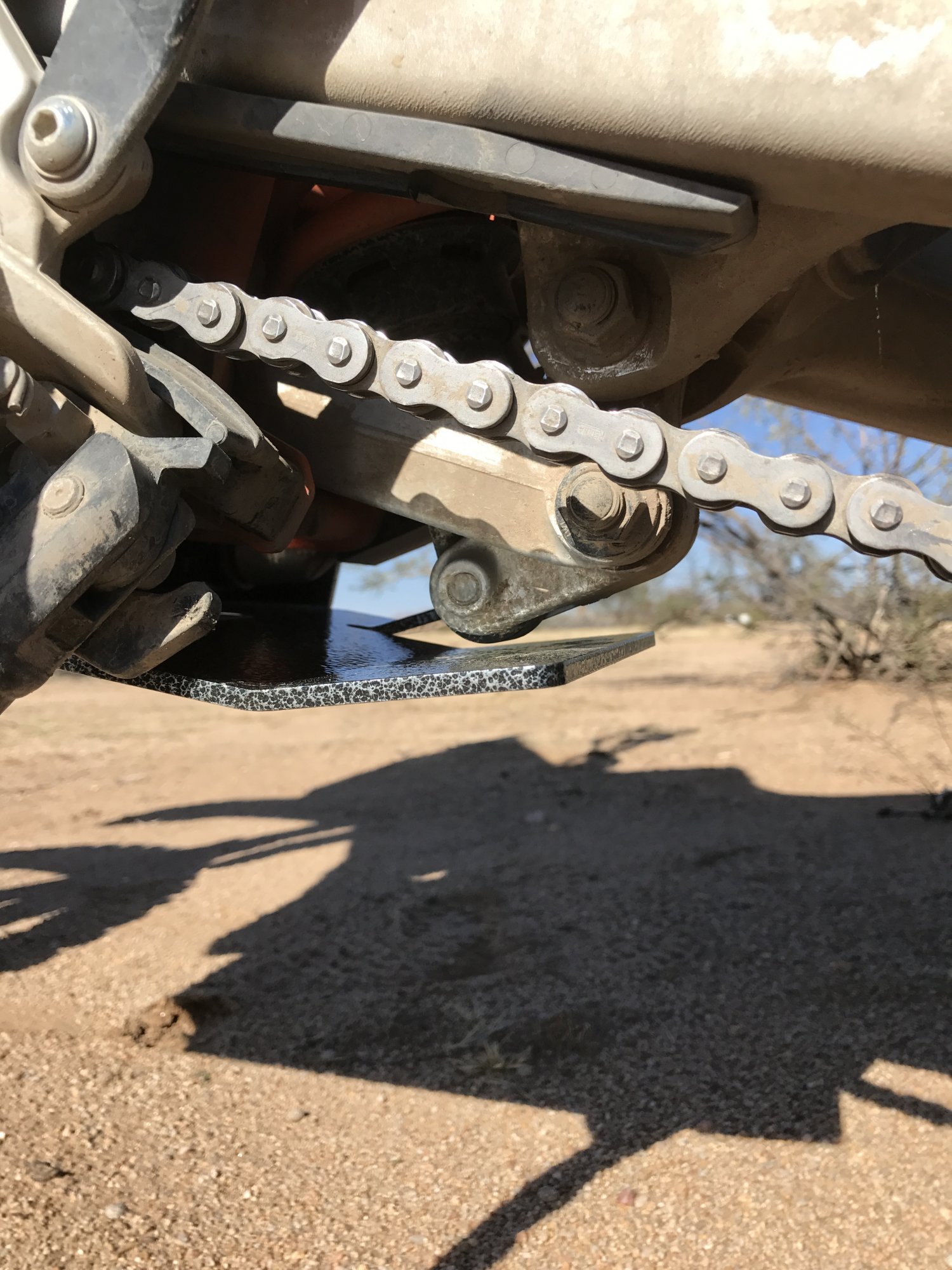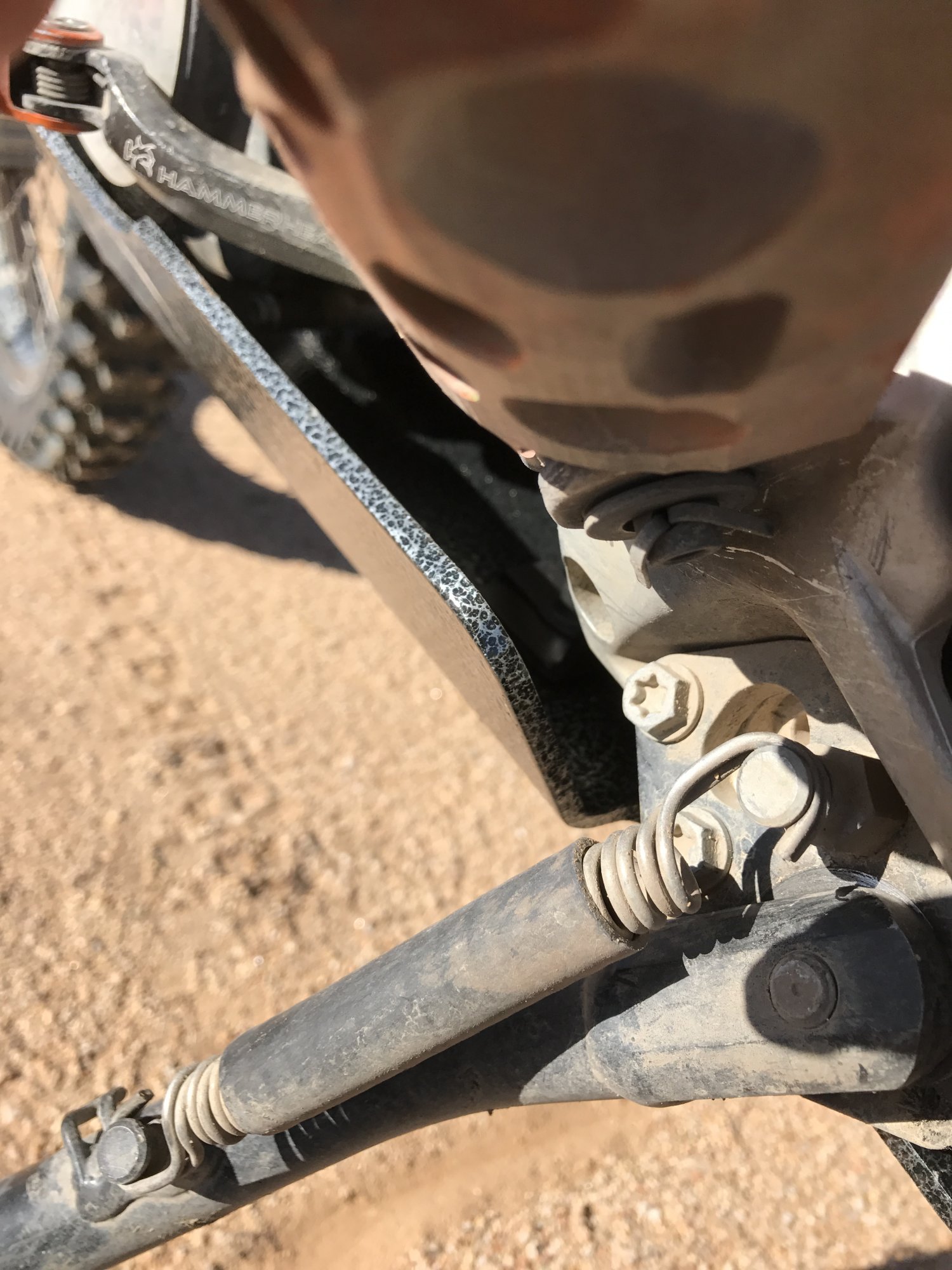 "Just got the new 690 skid plate from Black Dog Cycle Works yesterday. Now to go get it dirty."
—Horse 607 (ADVRider)
---
"I had Black Dog on my 2013 GSA. I went with _____ skid plate package deal on my 2015 GS. After a month replaced with the Black Dog. Yes, the ____ gives you a bit more ground clearance. But, it does not offer the robust protection of the Black Dog. If you ride in and around big rocks like in Baja, Alpine Loop and nearby roads in CO, you will want the Black Dog."
—AdvMoto18 (ADVRider)
---
"I have the Black Dog... a big ol' hunk of steel to go along with the tractor (2015 GSA). It seems to protect the header a bit better than the ____."
—Dogtown (ADVRider)
---
"If you're looking to "upgrade" your skid plate, most any one will do. If you want the most robust available, go Black Dog. Do you want to protect your engine from some fire road gravel? Are you going to take it on single track with baby-head boulders... you gotta decide. Black Dog is for the rough stuff."
—65SlashTwo (ADVRider)
---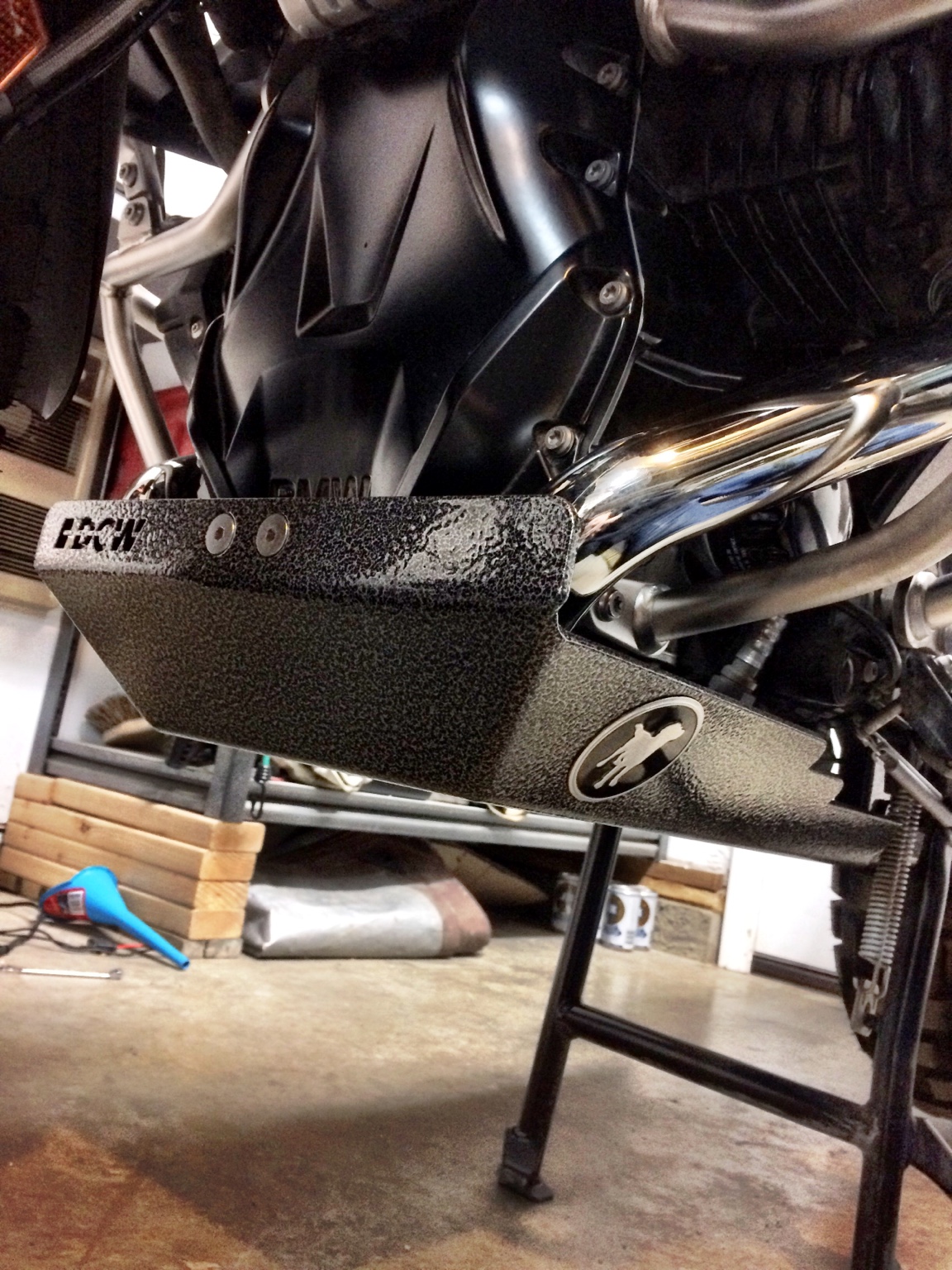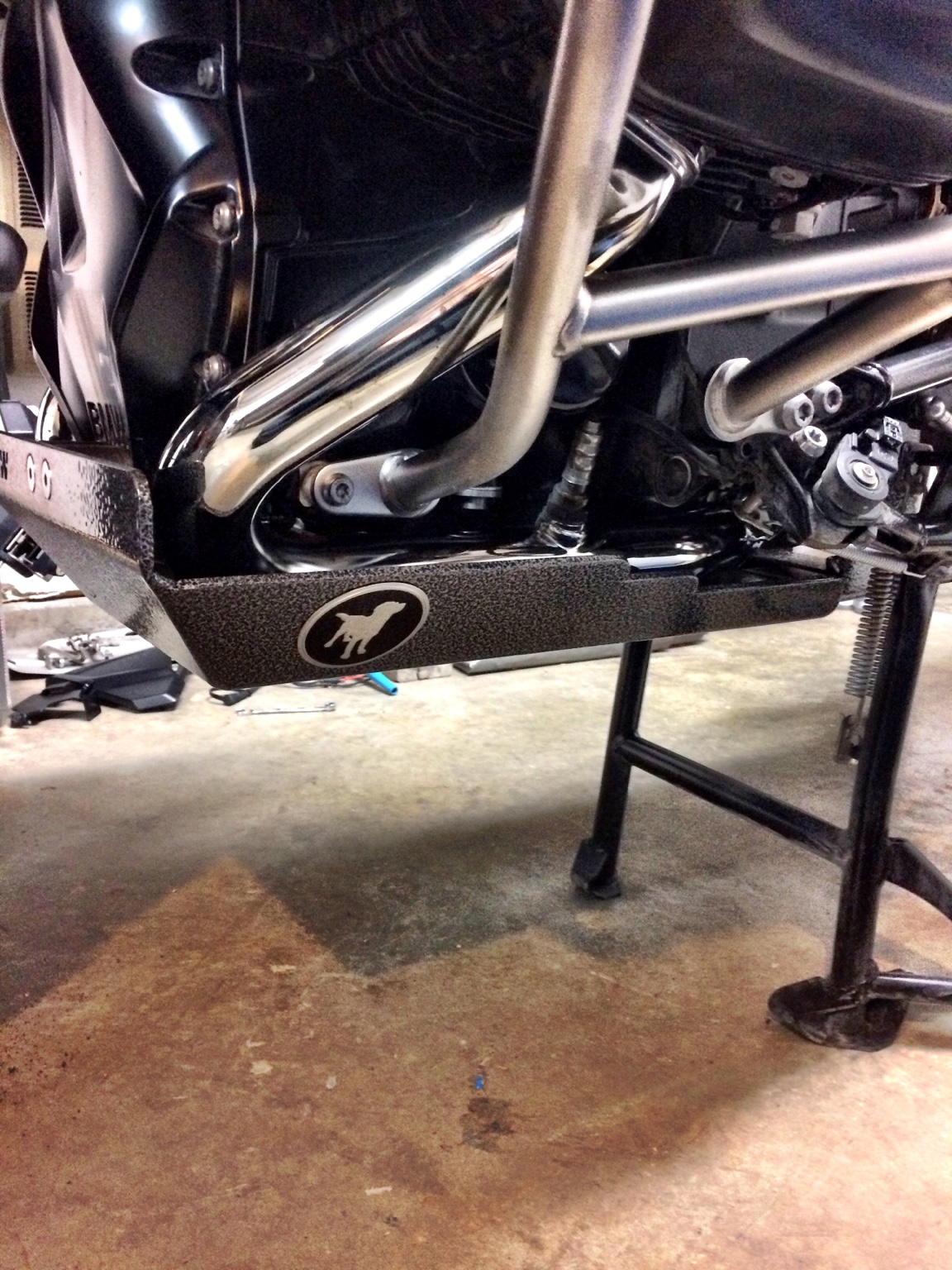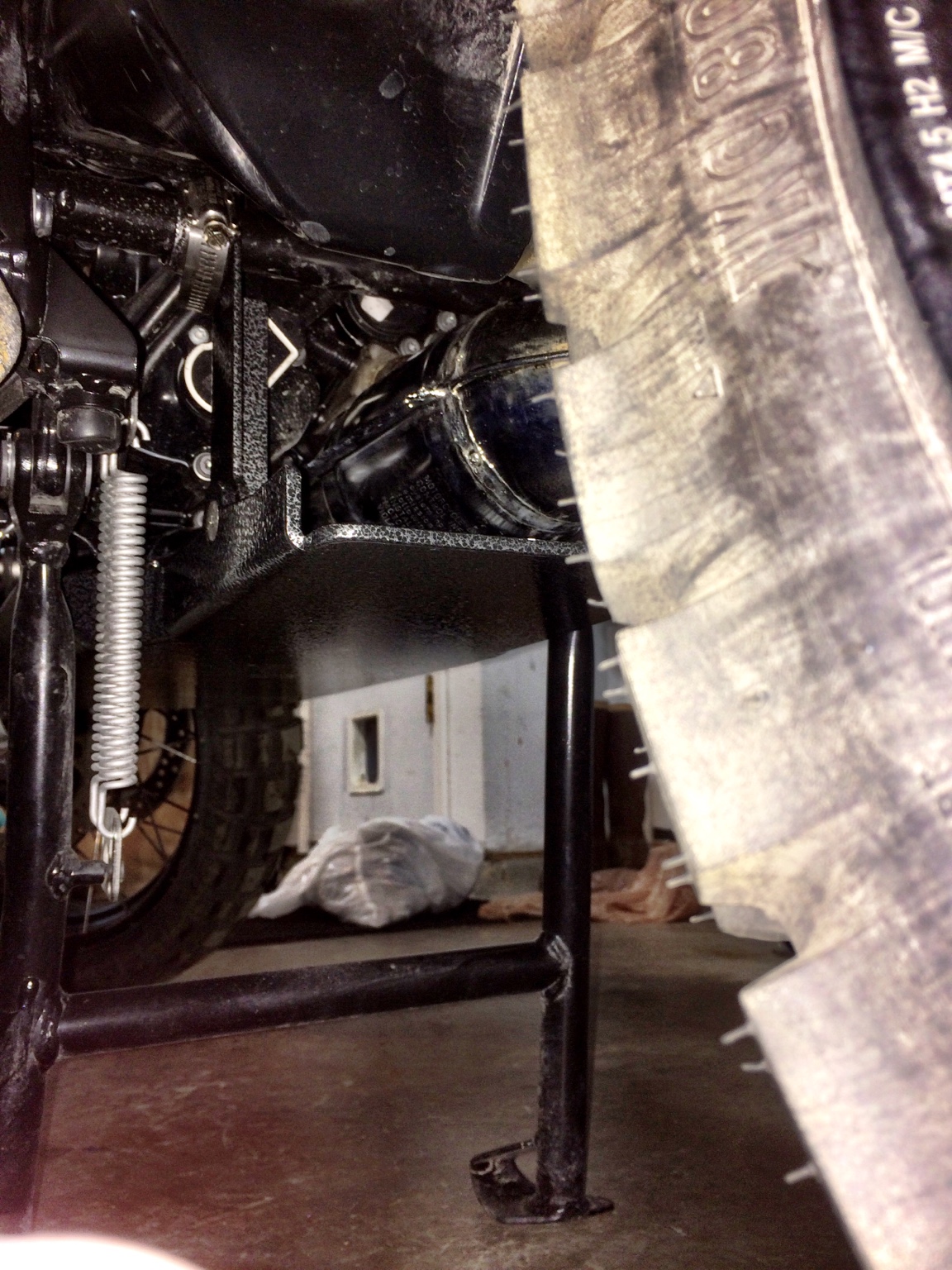 "I recommend the bash plate from Black Dog."
—Dogslobber (ADVRider)
---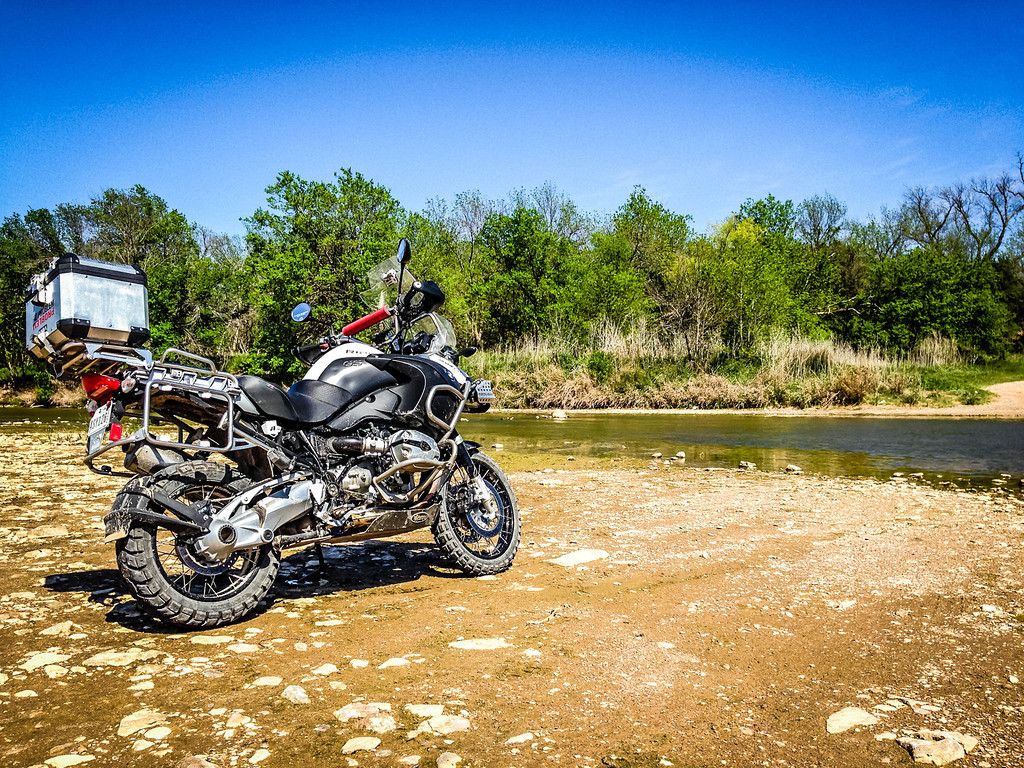 "I have the BDCW skid plate. I love it, it covers the header pipes all the way back past the cat. Easy install. It's like strapping a Sherman tank on the bottom of another Sherman tank. You won't regret buying it. Look for pics of the RawHyde instructors, vast majority of their bikes have the BDCW plate."
—Tex76 (ADVRider)
---
"I would definitely go with the Black Dog for that reason, it is kind of ugly, but man is it bombproof... and no more worries about snapping off rubber mounted bolts into your engine block."
—mrt10x (ADVRider)
---
"I have a 2012 GS with a BDCW plate and I love it. I was on a gnarly off-road ride this past weekend and it sounded like bell ringing with all of the rock banging off the plate. It protects the engine and headers very well and the scars on the plate demonstrate what would have been expensive damage without it. BDCW is not pretty looking and they are expensive for a sacrificial piece of metal."
—ZachZ (ADVRider)
---
"Black Dog. There is no question. Just check the ­­­­____ vs. BDCW skid plate on YouTube. Kurt and Martha don't sell costume jewelry."
—HeadShrinker (ADVRider)
---
"Black Dog all the way. ____ looks like a thong by comparison. Nice on a chick, not on the bike. I've had mine for a year. Multiple oil changes—no problem getting it on and off. Their mounting hardware is top notch. Isolation hard rubber blocks and dedicated alternate mount points will save your sump should things go wrong. That and the cross pipe and down pipe coverage actually protects those expensive BMW single wall pipes. Nice powder coat too. Get the matching center stand piece and make the underside of your bike smooth and bombproof."
—Pruhusky (ADVRider)
---
"The Black Dog skid plate is the best skid plate available. As far as I know, the only one that is actually designed with supports running to the frame so that an impact can be absorbed by the frame instead of the delicate engine case. It is a piece of serious armor."
—GAS GUY (ADVRider)
---
"I use the Black Dog Cycle Works skid plate. It has seen a lot of use in the Southwest U.S. and Baja and looks no worse for the wear—impacts."
—AdvMoto18 (ADVRider)
---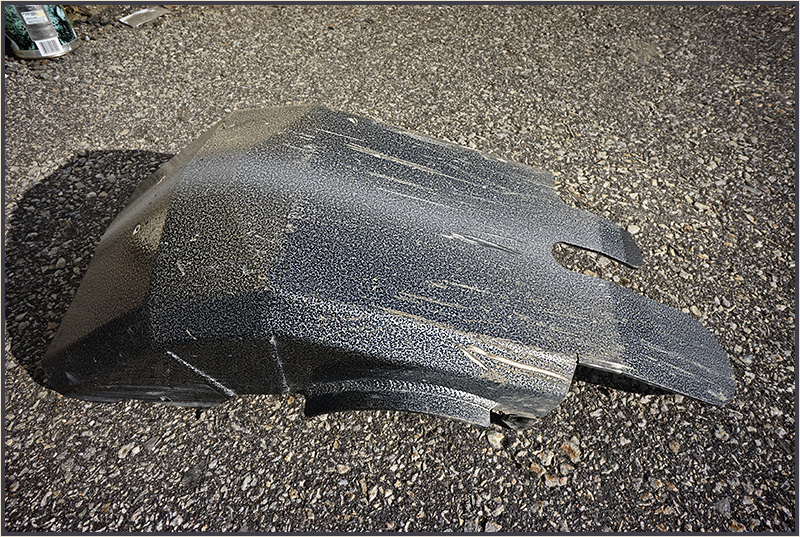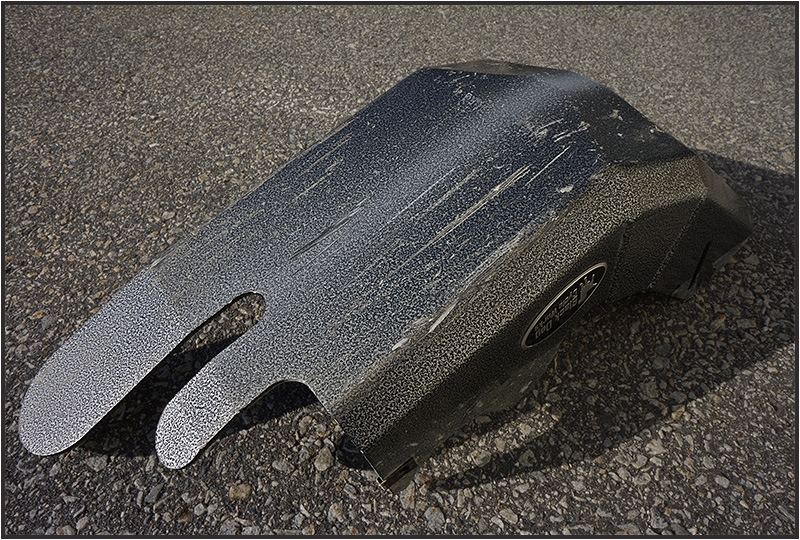 "The Black Dog is bombproof—look at the gouges in mine. Some of these are so deep there is a curl of aluminum at the end!"
—ADVRider
---
"The bike slid down this curb for 30 feet and hit the curb hard. I honestly believe I would have a hole in the sump of my motor if it hadn't been for the Black Dog plate. I know that the damage to the plate doesn't look like much, but you could see the scrape mark all along the curb from it, and the mounts for the plate, both front and rear, were bent. Got some new mounts from Kurt, and it's good as new, well, not quite as pretty. These are the images that hurt, and cost me a lot of money. This was all thanks to an asshole in a pickup truck that wanted the whole road, and didn't even stop. Luckily a father and son stopped to help my buddy and I get my bike back on the road. The bike slid down the curb on my Black Dog skid plate. I'm sure it saved me a $10,000 motor. The rash on the skid plate would have been a hole in the sump at the front of the motor. You can see the road was recently chip sealed. I had room to swerve around the truck, but all the loose gravel had been pushed to the side of the road. I was down the second my front wheel hit it. I'm still certain the outcome was better than it would have been if I had gone into the grill of the truck."
—GCecchetto (ADVRider)
---
"It is better. I trashed the KTM plate on my 990. That's why I bought the BDCW. Much beefier. Thus, the price. And why I put it on this bike, too."
—Beema Killa (ADVRider)