NEW from BDCW
The ULTIMATE Skid Plate Version 2.0 for the BMW R1200 GS/GSA-LC
We strive to constantly improve our products and when we see an opportunity to make one of our ULTIMATE Skid Plates even better, we jump on it. Our new 2.0 design is compatible with stock AND 21-inch aftermarket wheels which are gaining popularity with hard core off-road GS riders. In addition, unlike our original design, the front fender on the GSA and Rally models do not need to be trimmed, making this a direct bolt on accessory.
WHY EXPERTS LOVE IT (and Everyone Else Needs It)
BDCW's ULTIMATE Skid Plates continue to be the top choice for expert riders, proving its worth in the most rigorous conditions and terrain worldwide. Think you don't need this much protection? Think again. It's while learning to master big bike skills, both on pavement and off-road, that carnage happens. Rocks get kicked up, bikes get dropped and hung up, curbs get in the way, and scrapes and spills are just part of the adventure. And the ULTIMATE Skid Plate is designed to take all of the abuse—and more.
DESIGN NOTES
When BMW launched their BMW R1200GS-LC in 2013 we took a hard look at the vulnerabilities of the bikes key components and began a design that would stand up to significant abuse and gets the riders home safely. We ask ourselves, what can we do to substantially improve the protection of the bike. First we identified the need to get the rear mounting points off the engine and on to the frame. Seems like a logical choice, but we are surprised at how many manufacturers use the stock mounting points for their aftermarket skid plate. Another important design requirement is that it must remove easily for maintenance. Since we do a lot of our own maintenance we know how important that is to the consumer. Just 4 identical size bolts, one tool.
NUTS, BOLTS AND BENEFITS
Comprehensive Engine Coverage
Larger dimensions mean your expensive engine has maximum protection. Plus, it fully protects the clutch, ignition cover, header pipes and catalytic converter—most other brands don't. Other designs leave these completely exposed which can lead to a very expensive repair (the header pipes alone are $1,700 + labor).
Frame Mounted
Attaches to the frame at the rear of the plate. Saves your engine case from potential damage.
More heft—3/16-inch (4.76mm) of 5052 Aluminum
You get what you pay for. And we found the optimal material to protect, perform, and last. In fact, it may very well outlive your bike. The grade of aluminum we selected is designed to ABSORB impacts, not transfer the force to the mounting points on the bike.
Smooth Bottom for Clearing Obstacles
No holes to snag on rocks or branches. This plate glides on its own—right up over most obstacles without bolts, rubber sliders or rivets to catch or break off.
Accommodates Stock Center Stand
Eliminates the need for an extra center stand bash plate.
Unique "Shok-Blok" Protection
Rubber bumpers act as additional shock absorbers against frontal impacts while an additional "Shok-Blok" braces the front mount against the bottom of the engine block, providing extra insurance from damage.
Quick Change Artist
Removes with just 4 bolts for an oil change! No disassembly required.Saves on service costs at the dealership too!
Powder AND Clear Coated
Looks great and takes the punishment that anodized finishes can't.
Looks "Badass" on Every Bike
Not that it matters when it's covered in mud.
Cheap Insurance
Considering the costs of expensive repairs or "extractions" from the outback, it's a bargain!
Made in the U.S.
No bones about it, we manufacture all of our Black Dog products right here in the U.S. It is extremely important to us. We have world class manufacturers in our own back yard and we intend to use them.
Tested and Trusted Worldwide
All of our own products are rigorously tested on our personal bikes BEFORE they're released. Our innovative and rugged designs are used throughout the world—a fact that we're very proud of. We make no pretense that we're the cheapest, but, you can be sure that BDCW products are the best made, and that we stand behind them.
FITMENT
This skid plate fits the following models:
- BMW R1200GS-LC (2013-2019)
- BMW R1200GSA-LC (2014-2019)
- BMW R1200GS Rallye (2017-2021)

COMPATIBILITY
21" Front Wheel: Yes, this is what this modified skid plate is designed for!!
CENTER STAND: This plate works with the stock center stand. Please note that our plate provides full coverage that does not require an additional center stand plate.
ENGINE BARS: Compatible with engine bars from BMW, Hepco-Becker, Touratech, SWMotech, Altrider, Outback Motortek, Puig and Wunderlich. If your crash bar manufacturer is not on this list, please email us or call.
HEADER PIPES: Compatible with the Remus header pipe. NOT compatible with theAkrapovic header pipe. Please contact us if your aftermarket header is not currently listed.
WHAT RIDERS ARE "BARKING" ABOUT
Check out what satisfied BDCW customers and industry editors and experts are saying.
From Dirt Rider magazine:
"The Ultimate Skid Plate is well worth the price of admission. Just one ride with this bruiser was the difference between a great ride and a $1,500.00 repair bill. It's not cheap, but neither is an engine case when the wimpy stock unit proves to be inadequate. We have to admit, it stroked our ego a little, giving our bike that hard core adventure look, even if we're just going to the burger joint with our buddies."
From the Dog Pound (satisfied Black Dog riders):
"Hello! I purchased one of your ULTIMATE skid plates for my GSA 1200 a few years back and am totally loving it!
It is holding up great and has protected the bike from some serious impacts"—Dain Fogelmanis
"Great skid plate! The finish and fit is very nice. I love how easy this will be to take off when doing service work."—Doug Matson
"Install went great. Thanks for a fantastic product. This is my first BDCW product and I'm impressed with your attention to detail, very well done."—Nick Hein
"My skid plate for my 2015 BMW R1200GS LC was delivered yesterday and I installed it today using only my BMW tool roll. Now, as to quality—this is one serious piece of equipment. It makes the undercarriage a tank. At the same time the finish is elegant, like metal artwork. Nothing sloppy or rough. On a scale of 1 to 10 with 10 being the best I give this skid plate a 10."—Rev. Brian House
"The best product you can add to your motorcycle to ensure that your bike is well protected off road." —Jeff Camacho, Montclair, CA
"I have put your skid plate to the test! Copper Canyon last month and Death Valley with RawHyde this past week. I can't tell you how tough this thing is. It's worth every penny. I hit a few rocks pretty hard… I am glad I put the BDCW skip plate on. Everyone in my training class at RawHyde was looking at it. It is by far the best skid plate out there."—Mick Williamson, Gilbert, AZ
SHIPPING
The shopping cart is not able to calculate the correct shipping cost for Next Day, Second Day or Three Day UPS shipping due to the size of the skid plates. We will adjust the actually shipping cost once it has been determined. You are welcome to contact us for an expedited shipping quote if you prefer.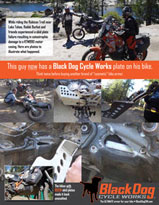 The dangers of using "cosmetic" armor
MADE IN THE U.S.A.