WHY EXPERTS LOVE THEM (and everyone else needs them)
BDCW ULTIMATE Skid Plates continue to be the top choice for expert riders, proving its worth in the most rigorous conditions and terrain worldwide. Think you don't need this much protection? Think again. It's while learning to master big bike skills, both on pavement and off-road, that carnage happens. Rocks get kicked up, bikes get dropped and hung up, curbs get in the way, and scrapes and spills are just part of the adventure. And the ULTIMATE Skid Plate is designed to take all of the abuse—and more.
FITMENT
This skid plate fits the following models:
KTM 1290 Super Adventure R (2022+ USA / 2021 European models)

KTM 1290 Super Adventure S (2022+

USA / 2021 European models

)
COMPATIBILITY
ENGINE GUARDS—The installation of our skid plate requires stock KTM crash bars (all models) or the SWMotech Crash Bars. Other models untested

.

AFTERMARKET HEADER PIPES— Fits with Arrow header, others untested at this time

DESIGN NOTES
The complete redesign of the KTM 1290 Super Adventure sent us back to the drawing board, using our 15 years of expertise to design the most rugged skid plate available. Amazingly, the one thing KTM did NOT redesign is attaching the side stand to the MOTOR - a risk that has been inherent in their big twin ADV bikes since 2003.
Once again Black Dog was able to incorporate a side stand relocation into our skid plate design to eliminate that risk to the engine block. One notable exception was that this time, we were able to keep the side stand safety switch intact! It still baffles us why the engineers at KTM continue to mount the side stand directly to the engine case beginning with the original 950 Adventure in 2003. With as many broken engine cases on the previous 950/990/1090/1190/1290 models, one would think at some point they would change their approach, luckily for Black Dog customers, we have you covered with a safe, innovative solution.
Unfortunately given the absolute lack of any structure at the front of the motor, we had to develop a front bracket that attaches to four different points on the engine case, which is done in a way that minimizes any risk to the case.
The rear of the skid plate is secured to the frame and the left side with the side stand relocation bracket is tied to the center stand framework for additional strength.
While maximizining ground clearance and airflow, the lines of our skid plate blend in seamlessly with the motorcycle and the white powder coat look perfect in our opinion.
Others may tell you that removing the side stand off the engine is "not necessary" because their skid plate "provides coverage"—if you are willing to gamble an $8,000 repair bill and getting stranded in the backcountry, that decision is entirely up to you.
Click here for a comprehensive explanation of the side stand issue on these bikes.

NUTS, BOLTS & BENEFITS
Comprehensive Engine Coverage
Larger dimensions and stouter construction means your $8,000+ engine has max protection. Plus, it fully protects the clutch, ignition cover, header pipes and catalytic converter—most other brands don't. Many riders don't realize a replacement header pipe alone costs $1800 (+ labor).
Integrated Side Stand Relocator
We have removed the kick stand from the engine case, eliminating the risk of a broken engine case from an impact to the side stand!

Optimized Ground Clearance and Coverage
Sleek, low profile design optimizes the balance between maintaining crush zones, providing excellent ground clearance and reducing the overall profile to minimize impacts
The side stand relocation / left rear mount of the skid plate has 3 Connections Points for extra strength.
We have created three mounting points on the frame at the center stand mount, greatly increasing the strength of the rear attachment points while keeping the mounts OFF the engine case.
More Heft = More Protection—3/16-inch (4.76mm) of 5052 Aluminum
You get what you pay for. And we found the optimal material to protect, perform, and last. In fact, it could outlive your bike. The grade of aluminum we selected is designed to ABSORB impacts, not transfer the force to the mounting points on the bike.
Smooth Bottom for Clearing Obstacles
No holes to snag on rocks or branches. This plate glides on its own˜right up over most obstacles without bolts, rubber sliders or rivets to catch or break.
Rubber "Shok Blok"
Helps to absorb and disburse force from those huge impacts
Accommodates stock Center Stand
Eliminates the need for an extra center stand bash plate.
Quick Change Artist—ONE Minute to Remove
Remove just 4 bolts for an oil change / maintenance!

Powder AND Clear Coated
Looks great and takes the punishment that anodized finishes can't.
Looks Badass on Every Bike
Not that it matters when it's covered in mud.
Cheap Insurance
Considering the costs of expensive repairs or "extractions" from the backcountry, it's a bargain!
Made in the U.S.
No bones about it, we manufacture all of our Black Dog products right here in the U.S. It is extremely important to us. We have world class manufacturers in our own back yard and we intend to use them.
Tested and Trusted Worldwide
All of our own products are rigorously tested on our personal bikes BEFORE they're released. Our innovative and rugged designs are used throughout the world—a fact that we're very proud of. We make no pretense that we're the cheapest, but, you can be sure that BDCW products are the best made, and that we stand behind them.
WHAT RIDERS ARE "BARKING" ABOUT
Check out what satisfied BDCW customers and industry editors and experts are saying about similar products: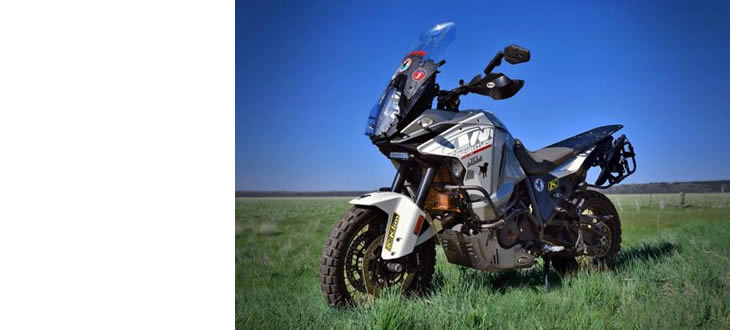 From ADVPulse: Trail Tough KTM 1290 Super Adventure Build (we have similar versions of our popular parts for both the 1190 & 1290)
From the Dog Pound (satisfied Black Dog riders):
More great feedback from Black Dog fan, Mufaddal Alaithan.
"You cannot see from the picture but I was bouncing off huge boulders in an off-road area near Arches State Park. The trail became impassable and I had to turn back. On the return, I lost it and hit the ground hard. The throttle got stuck open and the bike kept getting pushed on the ground—it sounded like the movie Titanic when it hit the iceberg. It crunched a hard bag and scraped up the crash bars. Much of the impact was taken by your skid plate and it looks like a bullet hit it. The paint chipped but zero deformation to the pan and there was no load transfer to the engine. I spent a couple hours that evening straightening the bag with a block of wood and a hammer but the pan required no attention. This was a 3,200-mile trip focusing on finding ghost towns and gold mines and the pan functioned flawlessly. Also, I would never attempt this with the side stand still attached to the engine. Thanks for a great product and even better support. Getting ready for another trip of the same kind and your products give me the confidence to undertake these adventures solo."—Dwight Waldo
"I hate you! I really do! But please let me tell you why. I was so happy when I got my new KTM 1190 R—a super bike for the dirt. All that it needed was protection. I didn't know about BDCW at that time, but figured [another brand] was the top protection, so I got their full system with the integrated skid plate. I felt great about it… until a real test happened. I had a crash! The bars were bent, and this expensive system that promised to protect the tank actually cracked it and I had to replace it for $1,200! So, I decided I'd remove it and go back the OEM bars, that's where I got a surprise because there was also plenty of dings on my racing headers!!! I don't see how their skid plate does any better than NO SKID PLATE at all! I had to run a thorough search and put my money where it would be worth it to get real, rather than just cosmetic, protection. That's when I found about BDCW. After installing your skid plate I completed my Enduro training where I heard rocks hitting my plate. I was like—this is the real test! I also looked under the bike to see what happened, and man… I could have returned this and claimed it was new! NOTHING happened to the skid plate. Not even a scratch. Next, I took the bike on a 5,000 km trip. I'd read reviews about your skid plate that claimed it caused the engine to send more heat to the rider, I found that a false claim. Compared to competitors, your skid plate also did not cause any sense of vibration or increased the noise coming from the engine. And, I can confirm that coverage on this plate is MASSIVE, there isn't a single thing that is not protected by it. On another ride I rode so hard that I actually damaged the panniers—one even flew off the bike—meanwhile, the skid plate remained unscratched! Hands down to the ULTIMATE, the real ultimate, skid plate for the 1190. You made me realize that I wasted a lot of money 'till I found you. I really hate you!"—Mufaddal Alaithan
"What the heck was I thinking when I bought the BDCW KTM 1190 Skid Plate??? I'll tell you what I was thinking... why didn't I do it BEFORE going to Moab!!! Then I would not have dented my header pipe! Fortunately, it just took a small hit and is now well protected by the BDCW body armor. I appreciate the workmanship and design of the skid plate and feel so much better when pounding on my 1190. The overall weight and the ease of removal had me concerned, but they were both unfounded. The plate comes off easy and the weight led me to believe it was made by KTM themselves! I held out on the BDCW skid plate until I could swing the added cost because I also wanted the kickstand relocation kit, and a the large coverage area, as I knew that I would have the 1190 for a very long time. So, the added cost divided by the protection and years of ownership made the cost a non-issue. My only disappointment is I waited too long!"—Jim Altonen
"Got my BDCW skid plate and side stand relocator installed on my 1190. It's hard to appreciate what an impressive piece of engineering and design this is until you see it in person and install it yourself. So well thought out and incredibly stout. Very stoked. Also, easily the best installation instructions ever in motorcycle accessory history, with detailed color photos. Made install so much easier."—Sponghead via ADVRider
"Thanks for making and taking the time to develop great products! Great skid plate! The finish and fit is very nice. I love how easy this will be to take off when doing service work."—Doug Matson
"After 24 hours in the saddle, most of which was spent standing, my feet were the only part of my body that wasn't sore. Those pegs are awesome and provided as much support as if I was standing on the ground. The skid plate and side stand relocater, were top notch and definitely kept my engine from getting broken open in a couple spots. Hearing the 'church bell' ring of rocks bouncing off the skid plate made me extremely happy I installed the BDCW one and not some cheaper version. Thank you for all the support and the great products and service. You and Martha run a top notch company and I have and continue to recommend you guys to everyone I talk to. Thanks again!!!"—Jeromy Williamson, Colorado Springs, CO (Comments after completing the entire AZ BDR in 24 hours as a fundraiser for the Motorcycle Relief Project)
"Hey, my KTM 1190 skid plate came in today!! Awesome piece! Thanks again and foot pegs are next!
"P.S. Anyone tell you that you have a cool thing going there? Hopefully making some money, making cool great stuff and getting to test it while doing what you love to do anyway. You guys have your stuff together for sure! Awesome! I know it ain't always good, but you got an awful lot of happy people out here, please, keep doing what you are doing!"—Chris Jensen
"I installed mine (BDCW's KTM 1190 skid plate) the other day, it was fairly easy. The instructions were clear. I also installed the luggage rack, perfect fit and it looks like it will work well. Thanks for the great products."—Mike Letcher, Rapid City, SD
"Thanks for a fantastic product. This is my first BDCW product and I'm impressed with your attention to detail, very well done. I recently spent some time with the guys from Gateway BMW at their GS Challenge and they spoke highly of your products. Thanks."—Nicholas "Nick" Hein, CO
"I took some very solid hits on a recent RawHyde trip and some local rugged trails in AZ. Thank god for your skid plate or I would have no headers left."—Jason Houle, Pheonix AZ
"BTW, that skid plate is worth its weight in gold! You gotta see the marks carved into mine (pic attached). Some of those stripes are really deep with a metal curl at the end."—A. Dale McLean
"I installed my the BDCW skid plate and sidestand relo on my new 2017 KTM Super Adv R over the weekend. It is absolutely awesome! Looks so good on the bike and it is built like a Sherman Tank. I absolutely love it and look forward to putting it to work on the NMBDR in October."—Loren Skinner, Friendswood, TX
"Hey guys!! Absolutely love the plate for the 1290sar!! It's so rare that you come across a product so well built! Worth every penny! Oh! And the pegs!! It's like a new bike!!" —Max Crask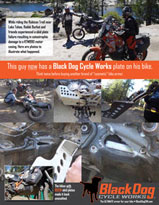 The dangers of using "cosmetic" armor
MADE IN THE U.S.A.